Amazon tries a physical button for making purchases
Amazon might be on to the killer app for restocking toilet paper from the privacy of your home.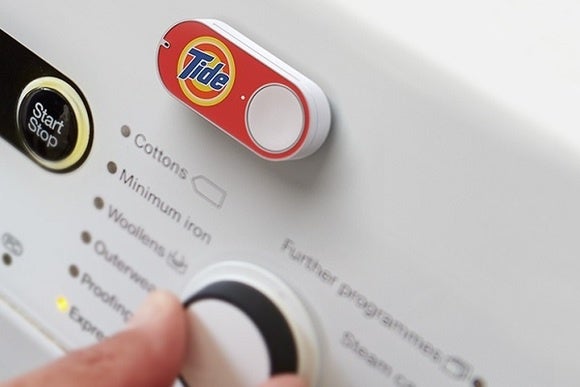 Amazon might be on to the killer app for restocking toilet paper from the privacy of your home.
Amazon Prime members can now request an invite to get their hands on "Dash Button," a small oval-shaped device to be placed strategically around the home like drawers, cupboards ... or the bathroom wall. Push its button, and the device will instantly purchase an item of the user's choosing. Currently there's more than a dozen buttons for buying Tide laundry detergent, Bounty paper towels and Gillette shaving products. Users can set up the device to send them any applicable item they want; a link on Amazon's site refers users to more than 250 Dash button products including moisturizers, dog food, and paper towels.
With it, Amazon is eyeing a new way to restock on household items. In the process, the company could grow the use of its Prime service for two-day shipping, and gain valuable information about how people shop or use Amazon's products.
With a reusable adhesive and hook, Amazon hopes people will hang or stick the Dash right where they need it, so it can be hit when supplies there are running low. It's a different take on Amazon's almost identically named "Dash" stick, launched last year, which lets users order groceries and other items by scanning them with the stick.
The Dash button will have its shortcomings. When a parent runs out of baby diapers, they're probably going to run to the store, not wait two days for a package from Amazon to arrive.
"This is one of many far-fetched experiments for Amazon," said Sucharita Mulpuru, an industry analyst at Forrester who studies e-commerce. It's unclear how much more data the device might give Amazon beyond what it already knows about shopping behavior, she said. For consumers, it might be something that catches on, but only for certain types of products.
As part of the launch of the Dash button, Amazon is also letting makers of Internet connected devices incorporate the technology into their products. A larger benefit to consumers might play out here. By incorporating code from Amazon, Brita's smart water pitcher will be able to order a new filter automatically. Printers made by the company Brother will measure ink and toner levels and place orders using Amazon's technology.
The Dash button, which is free to Prime members, syncs to the Amazon mobile app over the user's home Wi-Fi network. A single press automatically places the order and sends an alert to the app. Unless the user selects otherwise, the device responds only to the first press until the order is delivered, Amazon says.