Alienware 13 (2016) review: The first OLED gaming laptop has landed
Alienware's new 13-incher is a sight to behold.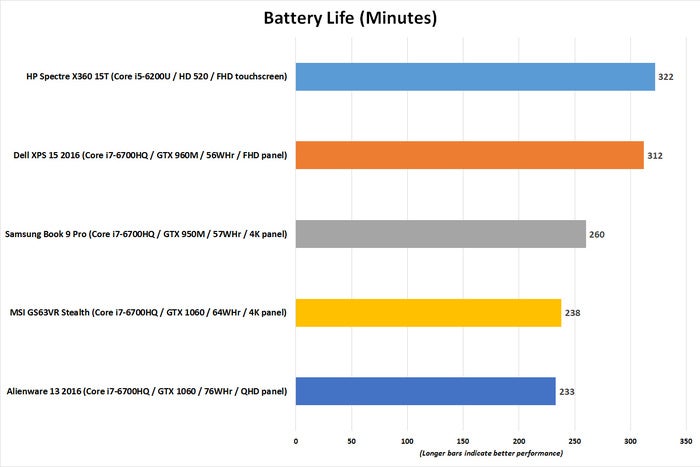 With the keyboard lights disabled, I ran our 4K video rundown test, which involves playing a 4K movie file on loop until the battery dies. The screen brightness was set between 250 and 260 nits, which is about what you'd set it at in an office environment, and I left audio on with earbuds plugged in.
The Alienware 13 lasted about four hours in this benchmark, which falls into that area between "terrible" and "awesome" from a real-world perspective. However, it's what we expect from a battery of this size, in a machine with this level of hardware. It's certainly long enough for a movie or two on a flight. You won't always have to chain yourself to an outlet, like you would with some ultra-powerful gaming notebooks.
Conclusion
The Alienware 13 is one sweet little machine. For its size, it's a bit heavy, but in exchange you get an extremely well-rounded laptop that excels in every way possible.
From its slick design to its performance, battery life, and OLED display, it's exceptional in every metric we usually examine. I'd say the only real "issue" I had with the Alienware 13 is that it can get a bit hot when gaming—enough heat billows out of the chassis that you can feel it on the keyboard. It's not too bad, since most of the heat generates at the top of the laptop, near the display's hinge, and the palm rest never gets warm. But you can feel some warmth on the keys after about 30 minutes of running it under load.
Also, just for fun, I ran a few tests at the panel's 2560x1440 native resolution. If you thought the GTX 1060 was strictly made for 1080p gaming, think again. The 13 ran Rise of the Tomb Raider on the highest setting at 42fps, and Shadow of Mordor at 60fps on Ultra.
That's amazing for a 5-pound notebook, and though you'll want a set of headphones to block the fan noise, this notebook is an extremely competent mobile battle station. At $2,099, it's expensive, but we'd rather have this than one of the monstrosities that usually populate this product category. We have nothing against ultimate firepower, obviously, but we really like the 13's balance of power, gaming prowess, and portability. That's a difficult balance to achieve, but Alienware has hit the nail on the head this time around.
Previous Page 1 2 3 4 5