Aerelight A1 OLED desk lamp review: Beautiful, but not as practical as it could be
OLEDs don't need to be small, and they're not just for TVs.
This is purely my personal preference, but I found that I preferred the color of the light that the inexpensive ($60) Ledu lamp over that of the A1's warm white (Aerelight rates its color at 2900K). As you can see from the photos, the Ledu produced light that was closer to natural sunlight, although it wasn't nearly as bright (I couldn't find a lux rating for the Ledu, but Aerelight says the A1 ranges from 100 to 1000 lux at its brightest).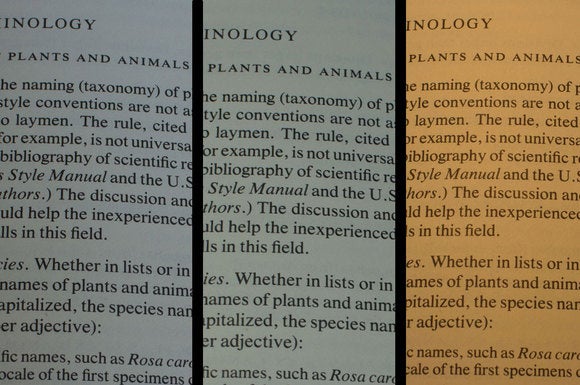 From right to left: An open book illuminated by indirect sunlight, by an inexpensive full-spectrum desk lamp, and by the Aerelight A1 OLED desk lamp. Michael Brown
I also preferred the Ledu's height. The A1's non-adjustable arm lifted the OLED just 11 inches above my desktop. I obviously wouldn't want it too high, because I wouldn't want the light traveling directly into my eyes, but I much preferred the Ledu's adjustable arm, which allowed me to place the shaded fluorescent tube right at eye level, 18 inches above my work surface.
Finally, there's the Aerelight A1's $299 price tag to consider. I presume it's so high because OLED yields are as low for this type of application as they are for the type used in TV manufacturing. The presence of the Qi charging pad can't be much of a factor, since I've seen that in much less-expensive lamps. The Ledu L9062 is as ugly as sin, but you could buy five of them for the price of one Aerelight A1, and you might prefer the cheaper lamp's light and flexibility.