A few cool tech startups I came across at Boston's HUBweek
Pilot Analytics, Analytical Space and Cake catch my eye; female entrepreneurs shine
Julia Computing touts its namesake open-source programming language as combining the "productivity of R, Python, and Matlab with the performance of C and Fortran," and company founder Alan Edelman and a compatriot at the Demo Day booth swore to me Julia was easy to learn as they ran through a demo (seriously overestimating my coding experience). It's being used in academia, as well as by engineering, finance and other businesses, and the programming language even has its own annual confab called JuliaCon.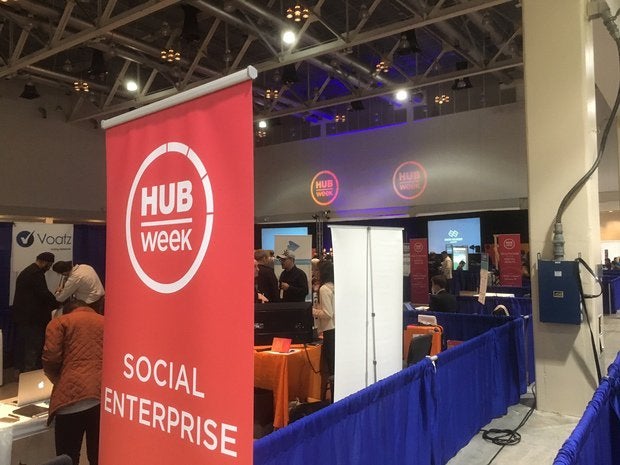 Social entrepreneurship was big at HUBweek
Women Entrepreneurs Shine
This isn't really about a tech startup, but one of the more remarkable stories of the day was Mighty Well's winning of the $250K Babson Breakaway Challenge for women-run businesses.
Mighty Well is led by recent Babson College grad Emily Levy, who was inspired to start her medical fashion business after being diagnosed four years ago with Chronic Neurological Lyme Disease and finding herself wanting to hide her less-than-attractive PICC line with something other than the cut-off sock that had been suggested by her doctor. She described Mighty Well's offerings as helping "patients to look and feel their best while going through their difficult medical time."
Demo Day kicked off with a focus on women entrepreneurs, and GE Ventures' Sue Siegel gave a talk during which she urged women to stand up for themselves in the workplace, doing so for themselves, each other and society. She encouraged all of the women in the room to offer their mentoring services, regardless of what professional title they might have in front of their name. "Looking out for others is a habit worth acquiring," she said.
But she acknowledged "no matter how hard we work, this problem isn't going to go away as quickly as we want."
She pointed to one of her biggest personal and professional regrets, when she worked right up until her water broke when pregnant with her first son, and then headed back to work after just a couple of days of maternity leave even though her company offered leave. She realized later that her behavior set a poor example for other men and women in the office, who should have been encouraged to take time for themselves and their families.
Siegel emphasized that gender equality in the workplace "isn't just a women's issue," in that society benefits by having all of the smartest brains put to work. "We have to educate and empower men to be our allies in this cause because my bet is that many, if not most, of our male colleagues are totally willing to be our allies if we let them."