5 travel backpacks designed to carry your MacBook
It's the start of summer travel season, and you don't have to leave your laptop behind.
Last month, Apple updated the MacBook, making its already-ultraportable laptop faster and giving it a longer-lasting battery. These improvements certainly made the MacBook even more ideal for travelers and people who are always on-the-go. Still sporting just one USB-C port, the new MacBook was built for a truly wireless world, according to Apple, so you won't be bogged down by superfluous wiring.
With that travel-friendly mindset, we went on the hunt for the perfect backpack for taking your MacBook with you on all your summer adventures. Some of these backpacks are big enough to fit even a 17-inch MacBook Pro, but small enough to still be considered a carry-on should you happen to be boarding a plane to a far-off destination. Here are five of our favorite backpacks for bringing your MacBook along for the ride.
Standard Luggage Co.'s Carry-On Backpack
This travel backpack by Standard Luggage Company was intended for all types of travel, whether a weekend getaway or some serious backpacking. You can tuck away the backpack straps and turn it into a duffel bag by holding it from the side handle, or add the shoulder strap and carry it like a messenger bag. The Standard Luggage backpack has a clamshell design, so you can open it and lay it out flat when you're packing. In addition, it comes with a separate pocket for storing a 15-inch MacBook Pro. The main compartment can be expanded, too, if you happen to buy more stuff during your travels. This all-in-one bag retails for $179.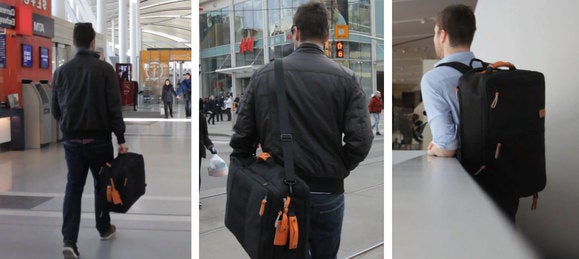 Standard Luggage Carry-On Backpack
Just Porter Sable Rucksack Backpack
Just Porter spent two years designing the Sable Rucksack, a waterproof, roll-top backpack which uses a custom thermoplastic polyurethane fabric to keep your things dry. And you know how you have to take out your laptop every time you go through airport screening? The Sable backpack has a padded laptop compartment with its own separate side-access, so you don't have to dig for your MacBook. It also has quick-release magnetic buckles on the front, just in case you do need to get to the main compartment in a hurry. The Sable Rucksack Backpack is available in gray, black, and olive for $199 from the Just Porter website or from Amazon for $200. The company also has instituted a charity program so that for every backpack sold, they send a backpack full of school supplies to a kid in need.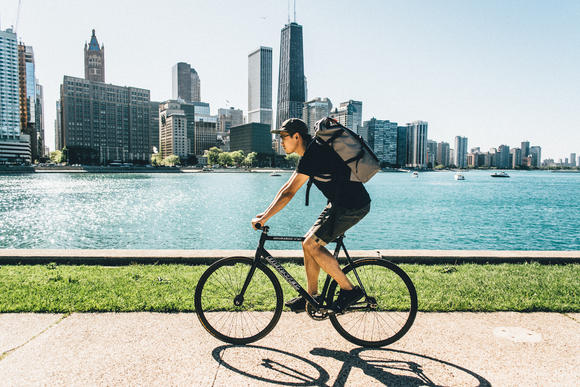 Just Porter Sable Rucksack Backpack, in gray
North St. Clinton Backpack