5 tech battles facing Trump
The tech industry could face challenges from Trump on immigration reform, R&D support, climate change, China relations and auto emissions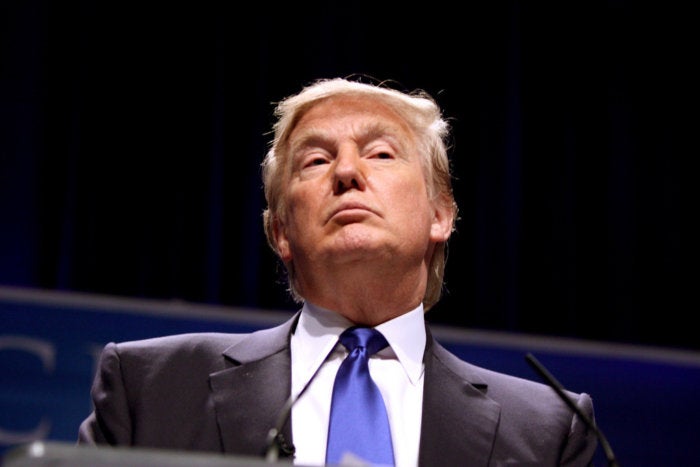 President Donald Trump may face protests from scientists and technologists like no other president before him.
It's not just the tech industry that may battle Trump. New forces are arising, some grassroots, such as Neveragain.tech and a planned massive "March for Science," in Washington and elsewhere. The tech industry protest over the seven-country immigration ban is just a preview.
Major battles also loom over other issues with consequences for tech, including climate change, air quality, support for federal research and trade policy.
Here's a look at some of the tech-related issues that Trump faces.
1. California's emissions and clean energy tech
The California economy is the sixth largest in the world and recently surpassed that of France. This gives California tremendous economic clout, and what action it takes on clean energy has national impact not only on public policies, but the tech industry as well.
California has a U.S. Environmental Protection Agency waiver that allows it to set stricter emissions standards for vehicles. This waiver is widely opposed by business groups, which want a single, weaker national standard. Trump's EPA nominee, Oklahoma Attorney General Scott Pruitt, will not commit to keeping California's waiver.
California believes that tougher emissions and clean energy regulations are policies that help to develop its clean energy industry.
California Senate President Kevin de León (D-Los Angeles) said that if Pruitt is confirmed and decides "to endanger our innovative economy, jobs, and most importantly, the air 40 million people breathe, he will be met with full resistance up and down the state."
Meanwhile, supporters of a California secession movement have begun collecting signatures to start the process of separating from the union. If Trump wants to push California to vote for independence, pulling the state's emissions waiver is one of the first things he should do.
2. Federal support for science research
Federal investment in research and development is declining despite the best advice of U.S. scientists. The pullback started before Trump took office, but the concern is that a Republican-controlled Congress and administration may hasten it.
In 2011, the Task Force on American Innovation, a broad industry and academic group, held a congressional forum called "Deconstructing the iPad" to show that the majority of iPad components, its integrated circuits, touch screen, sensors, GPS, not to mention the internet, were the fruits of federal government-supported research. While these observations had no impact on U.S. lawmakers, Chinese leaders understood the importance of supporting basic science R&D.
China is on pace to surpass the U.S. in R&D spending as early as 2020. China's goal is to challenge U.S. technological dominance and win global market share. In December, the task force on innovation sent Trump a letter saying, "we cannot afford to reduce our efforts while other countries threaten our leadership by funding the basic scientific research that is vital to tomorrow's innovation."