5 hidden Android Nougat features you should be using
Here's a look at some of the more helpful, lesser-known features hiding out in Android 7.0.
Nougat is here—finally! And we're not just talking about the opt-in beta. Google has finally released Android 7.0 Nougat for Nexus users. With it comes a slew of new features, tweaks, and changes that should help make your Android experience even better than before.
There's been plenty of information published on Nougat's new offerings—like its support for split-screen apps and direct reply messaging—but there are also a number of smaller features that are just as helpful that haven't been touted as loudly. Here's a look at some of those hidden features you should be using if you've got Nougat running on your Android device.
Make any app compatible with Multi-window
Multi-window will be helpful for those with bigger screens, though not all apps are compatible with Nougat's new split-screen feature. Fortunately, there's a developer option that allows these apps to be resized regardless of whether they've been optimized. Of course, there's no guarantee they'll work right.
To access this ability, you'll have to first enable Developer options. Go the Settings panel, and under About > Software information, tap on the Build Number seven times.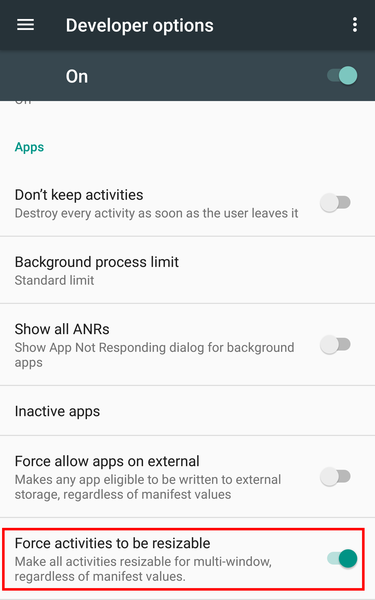 This option will force those apps that aren't compatible with multi-window to work regardless.
Once you're alerted that Developer options have been enabled, head back to the main Settings panel, tap on Developer options at the bottom of the screen, and then tap on "Force activities to be resizable" to make all apps compatible with Multi-window.
Enable the System UI Tuner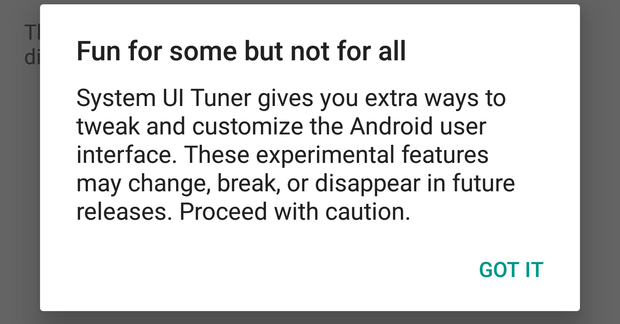 The System UI Tuner will give you a warning about enabling the feature.
The System UI Tuner lets you fine tune design elements and gestures across Nougat. To activate it, simply tap and hold on the Settings icon in the Quick Settings menu and then wait for it to spin. You'll know it's been enabled when you see an alert that it's been activated.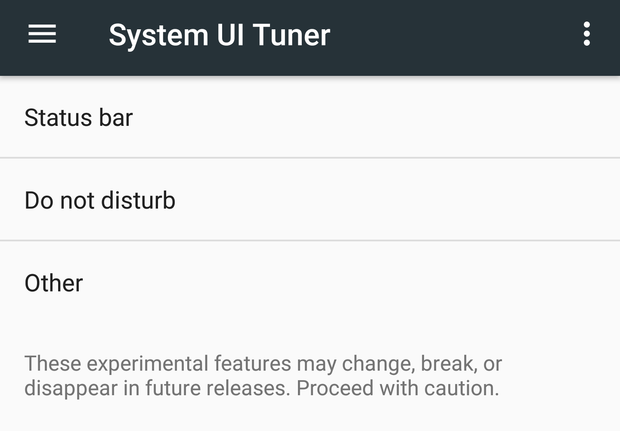 These three categories contain a ton of customizable interface features.
The System UI Tuner was also a hidden feature in Marshmallow, but Nougat brings with it a few new tools. For instance, you can turn on Power Notification controls, which enables more granular control over an individual app's notifications. You can even turn off all the Quick Settings so that you only have notifications appear in the drop-down shade.
Take some time to play around with what the System UI Tuner has to offer, but remember that most of the features are still experimental.
Increase font size