4 essential search tricks to finding the perfect holiday gifts on Etsy
Finding handmade and vintage gifts just got a little easier with Etsy's new search tools.
Etsy's Jaime DeLanghe said her secret gift-buying tip is to use the search bar to find people you know who use the site.
"If you know someone you like is on Etsy, you can find all of their favorites and what they've been engaging with on the site," she said. "I don't buy things for people that are on their favorites list, because I don't know if they bought that already, but it's a great way to get a sense of their taste if they've made it public."
Gift guides light the way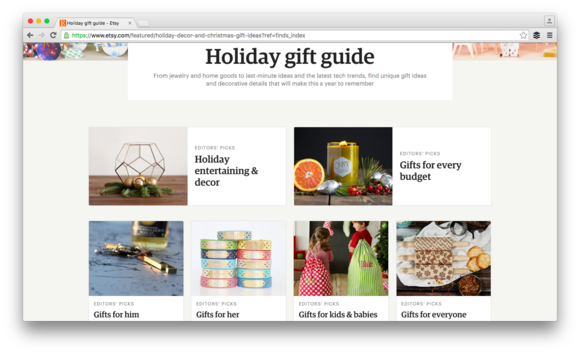 If you really have no clue what to buy someone, Etsy's editors put together gift guides for just about every kind of person: Teen boys, people who love gag gifts, and even pets. There's even a Star Wars vintage gift guide—'tis the season. There are gift guides year-round, not just leading up to Christmas, but the holidays bring out more specific recommendations from Etsy's team. They're a good place to start if you're lacking inspiration.
Buying local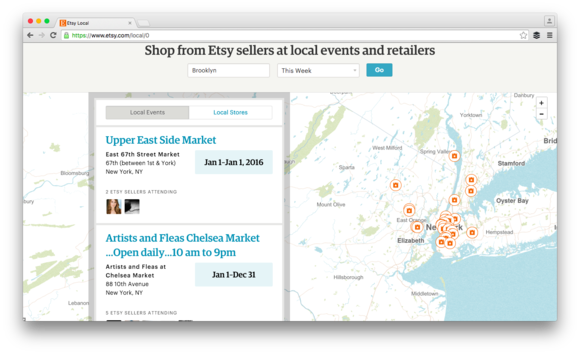 There's little time left to order online and have a gift delivered in time for Christmas, but that doesn't mean you can't buy from an Etsy seller a little closer to home. Etsy Local finds shops in your city that sell goods both online and in-store, and also lists holiday fairs in your city where you can find Etsy items. There are more events and shops in metropolitan areas like New York than rural areas, obviously, but don't count out your city.
Same-day delivery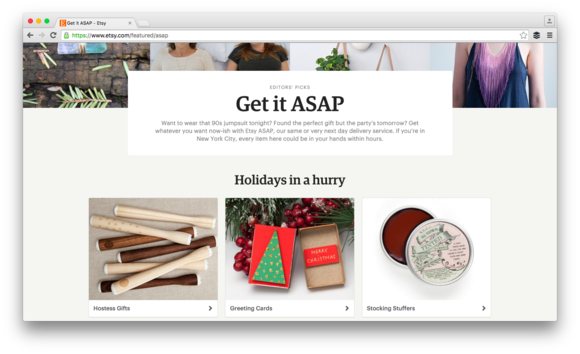 New Yorkers do have one perk that other buyers don't yet: Etsy is piloting a same-day and next-day delivery program called Etsy ASAP with Postmates. You can find the list of participating sellers here, and for a $20 fee, a Postmates courier will bring the item to your door. Yes, $20 is a little steep—Amazon's Prime Now program offers two-hour delivery for $7.99. But that's the price you pay for a handcrafted gift on-demand.
Amazon also has its own Handmade marketplace, which is a clear Etsy rival. You can find handcrafted and vintage goods on eBay, too. Etsy is clearly aware of the competition, and wants to make it easier for buyers—or potential buyers—to find what they don't even know they're looking for.