3D printing is now entrenched at Ford
While 3D printing was little more than a toy for engineers 20 years ago, today Ford Motor Co. could not develop new cars without it. New technologies ensure it's coming to a production line near you.

Credit: Ford
If you were to put the brakes on 3D printing technology at Ford today, the company's vehicle development would literally come to a screeching halt.
Additive manufacturing at the automaker has evolved from being a niche technology a few engineers toyed with 20 years ago to its integration in the R&D process 10 years ago to the "entrenched" development process it is now.
"We touch a significant portion of the vehicle with 3D printing now," said Harold Sears, technical expert of rapid manufacturing technologies with Ford's manufacturing division. "We're prototyping virtually everything [using 3D printing] from road to roof."
How much of a digital transformation has 3D printing brought to Ford? A little more than a decade ago, Ford 3D-printed perhaps 4,000 prototype parts for its vehicles. Today, the automaker's five 3D prototyping centers churns out more than 100,000 parts annually. In the future, additive manufacturing (3D printing) will likely be used to construct a least a portion of production parts on vehicles, Sears said.
More companies embrace 3D printing
A 2016 survey of 100 top manufacturers by PricewaterhouseCoopers (PwC) revealed that 71% are using 3D printing, some for rapid prototyping and others for production or custom parts.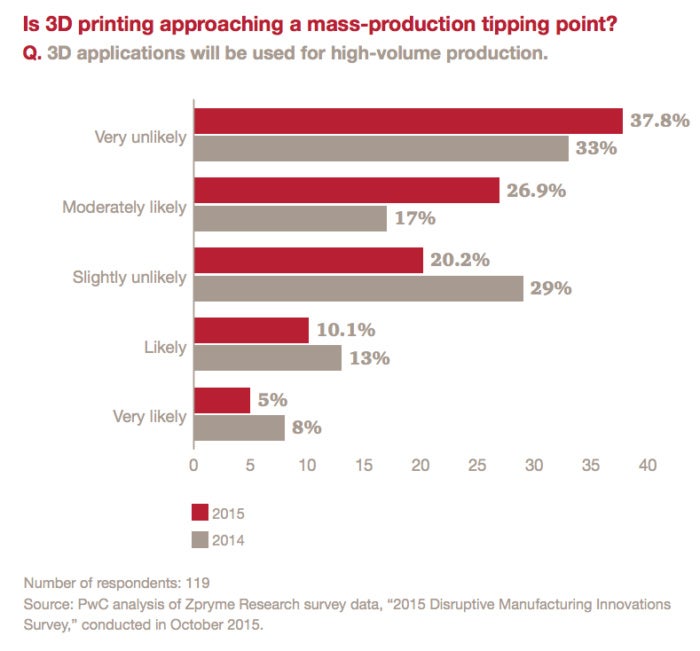 Credit: PwC
Over the next three to five years, 52% of manufacturers surveyed expect 3D printing to be used for high-volume production compared to two years ago, when only 38% thought the same. Sixty-seven percent of the companies surveyed believe 3D printing will be used for low-volume, specialized products within five years.
Global spending on printers hit $11 billion in 2015 and is forecast to reach about $27 billion by 2019, according to IDC.
The global 3D printed metals market alone is expected to be valued at $12 billion in 2028, according to a new report from IDTechEx.
Direct metal laser sintering remains the dominant printer technology by total installed base, with an 84% market share at the end of last year; the remainder of the market is fragmented across the other three major alternatives: Electron Beam Melting (EBM), Directed Energy Deposition (DED) and Binder Jetting.
Ford has increased its use of metal materials for 3D printing with the hope of making both more usable prototypes and "niche applications that may go beyond prototypes," Sears said.
Additive manufacturing has become an integral part of manufacturing among industries such as aerospace and automotive because it streamlines development, increases the quality of parts and cuts time and costs exponentially.
Saving time with prototypes
"If we're looking at prototyping a part, 3D printing can save us in the development time it takes by orders of magnitude – maybe one-tenth of the time as compared to making a tool to then make a prototype part," said Ellen Lee, Ford's additive manufacturing research technical leader.