10 excellent movies to stream on Netflix over Thanksgiving weekend
Be thankful for your couch, your remote control, and the miracle of streaming movies.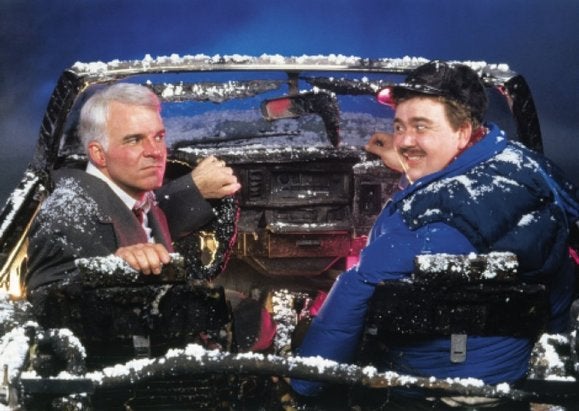 Thanksgiving is the perfect time of year to gather on the couch and watch a good movie. While we're sitting there, moaning in pain, having eaten too much yet again, and thinking about how miserable it was to travel, and how crazy our family members are, these 10 movies are a reminder that we're not alone in the world. And, indeed, despite everything, there are many, many wonderful things about this time of year, and plenty of things to be thankful for. Like Netflix.
Addams Family Values
The first The Addams Family (1991) was a little too formulaic to really work, but the sequel, blessed with a witty screenplay by playwright/essayist Paul Rudnick, is much funnier and closer to the spirit of the twisted Charles Addams cartoons. Directed by Barry Sonnenfeld with a fluid, lively touch, Addams Family Values (1993) is screwy, but also unafraid to go dark. Joan Cusack plays a murderous nanny who is hired to look after a new baby, and Uncle Fester (Christopher Lloyd) falls in love with her. Meanwhile, Wednesday (Christina Ricci) is sent to a summer camp, where she is forced to perform in a play about the Pilgrims, and subsequently steals the movie. Note: in both this and The Ice Storm (see below) Ricci makes decidedly un-festive, but very funny, Thanksgiving speeches.
Brokeback Mountain
Ang Lee's Oscar-winning "gay Western" Brokeback Mountain (2005) quickly stole the hearts of critics and viewers during its time, and it seems to have endured. Lee's simple, beautiful direction subtly illustrates the passionate beginnings, and tragic downfall, of a forbidden love affair. Heath Ledger's remarkable, tightly guarded performance rather overshadows Jake Gyllenhaal's, and several subplots seem unnecessary and drag the movie on far too long, but the emotional impact is undeniable. At Thanksgiving, Ennis (Ledger) awkwardly tells a rodeo story while an electric knife saws through the turkey meat, while Jack (Gyllenhaal) fights with his father-in-law over whether the television should be on during the meal. Both scenes nicely illustrate a feeling of both men feeling out-of-place and alone among their legitimate families.
Deadfall
Note: this is a leftover from last year, but still tasty! Austrian director Stefan Ruzowitzky won an Oscar for his Holocaust drama The Counterfeiters, but Deadfall (2012) is nothing like it. It's a refreshingly effective pulp drama that relies on powerful family relationships, and uses the chilly, snowy terrain to both separate characters and bring them closer together. On Thanksgiving, a brother and sister team, Addison (Eric Bana) and Liza (Olivia Wilde), escape from a successful casino heist and head into a brutal snowstorm. After an auto accident, and after Addison kills a cop, they separate and try to make a run for it through the freezing woods. Liza meets an ex-boxer, Jay (Charlie Hunnam), who has just served a prison sentence for killing a man in the ring, and tries to get herself invited to his parents' home for Thanksgiving. But more violence is in store. Sissy Spacek and Kris Kristofferson play Jay's parents, and Kate Mara is a scrappy cop tracking the villains.