Zuli Smartplugs review: Clever and inexpensive home lighting control
Zuli has been shipping its Smartplugs to Kickstarter backers since mid July, and now the company feels comfortable enough to send devices to reviewers who don't have a stake in the product's success or failure.
Tap the Schedule button and you can create events that will turn the lamp on and off. This feature is only mildly sophisticated: You can set times for the lamp to turn on and off, and you can repeat this event every day or only on given days of the week (every Monday, for instance, or every Monday, Wednesday, and Friday).
But there is no randomization feature to allow you to vary the time (plus or minus five minutes for each event), and there's no provision for having the lamp turn on at sunset and off at sunrise (or a few minutes before or after). Those capabilities are the best way to make a home look lived-in to burglars who might be casing your house.
Nest and other third-party support
I've characterized the Zuli Smartplugs as lighting controls, but they can do more than that. They can also turn electrical appliances on and off, so you could use one to control something like a fan, a space heater, or even a radio I suppose. And as I mentioned up top, they'll also make a Nest Learning Thermostat work better.
The Nest depends on a body passing in front of its motion sensor to let it know someone's home. If you spend all your time in one area of your home and don't walk past the thermostat for long stretches, it could decide that you're not home and therefore not in need of your HVAC system. The Zuli Smartplugs can not only send signals to the Nest letting it know you're at home, it will also inform the Nest of your personal temperature preferences. As with the lighting control, the first person to enter the home gets their heating and cooling preferences until they leave.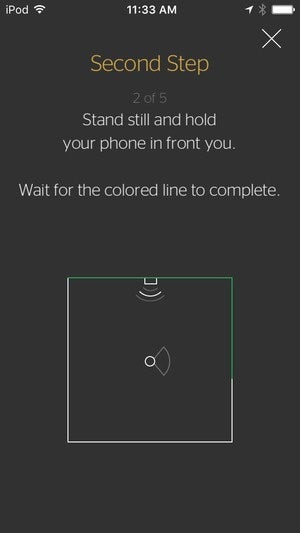 Zuli's calibration routine establishes the perimeter of the room in which the Smartplug will operate.
I first heard about Zuli Smartplugs after the company received an investment from Logitech. At that time, there was talk of incorporating the plugs into Logitech's Harmony universal remote ecosystem. That hasn't happened yet, but I spoke with Umphreys again earlier this week, and he told me the company is still working on it. That would be a great additional feature, because you could have the lights dim when you turn on the TV. But I won't take any points away for that now.
For now, the biggest shortcoming—apart from the absence of Android support, that is—is the plugs' inability to differentiate between day and night. The app on your smartphone obviously knows what time it is, so it should give you the option of not turning a lamp on when you enter a room during the day. (Some rooms—such as the garage, basement, or attic might be dark all the time, so you'd want to have the choice.) Umphreys tells me that that's in the works, too.
Previous Page 1 2 3 4 Next Page