Zuli Smartplugs review: Clever and inexpensive home lighting control
Zuli has been shipping its Smartplugs to Kickstarter backers since mid July, and now the company feels comfortable enough to send devices to reviewers who don't have a stake in the product's success or failure.
Leave the room, and the light will automatically turn off five, 10, or 20 minutes later, depending on your preference (you can also manually turn it off using the app). This location awareness is basically a micro version of geofencing, and like that technology, it depends on your iPhone being on your person.
That's not an unreasonable burden, unless your daily routine is to plug your phone into its charger when you come home at night—which is exactly when you'd want the Zuli Smartplugs to do their thing. An even better solution would be to have the app run on a wearable device—like an Apple Watch—but I'm sure that's on Zuli's roadmap.
Most homes have more than one person living in them, of course, and the Zuli Smartplug network can work with multiple iPhones, but the first person to enter the room will rule the roost. If a second person enters the room, their lighting preferences will be ignored.
In a briefing earlier this year, Zuli CEO Taylor Umphreys told me the company is working to develop a hierarchical ranking system that will assign each user's preferences higher or lower priorities, so that mom and dad's lighting preferences can overrule those of the kids, for instance. Families will have to decide for themselves if mom or dad gets top ranking, I suppose. And it bears repeating that everyone will need to have their iPhones in their pockets.
Thanks to the network's proximity awareness, the app knows which room you're in. So when you call it up, it will default to displaying the control panel for that room. The first screen is just a button that lets you manually turn the light on or off. If it's a dimmable light, tapping the name will call up a second screen with a big circle that you can spin to make the light brighter or dimmer.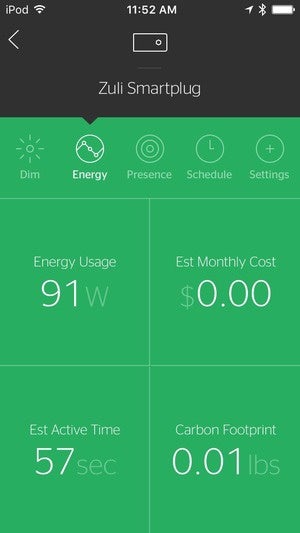 The app can also tell you how much energy your device consuming, and what it's carbon footprint looks like.
A number in the middle of the circle provides a scale. Whatever value you set here will be the value that the light comes on, whether it's triggered or turned on manually. So if you usually want the light dim when you enter, but you brighten one time to read a book, you'll need to remember to reset the value to your preference before you turn it off.
The same screen that shows the dimmer control has four other buttons, the most interesting of which is the Energy button. This will show you how much energy the lamp is consuming in real time, an estimate of the monthly cost to operate the lamp, how long the lamp has been turned on, and the lamp's carbon footprint. You'll only need the Presence and Settings buttons when you want to make fundamental changes to the way the Smartplugs operate.
Previous Page 1 2 3 4 Next Page