You'll pay a lot more for an unlocked Nexus 6 smartphone
US$649 for 32 GB Nexus 6, while subsidized carrier prices are expected to be much lower.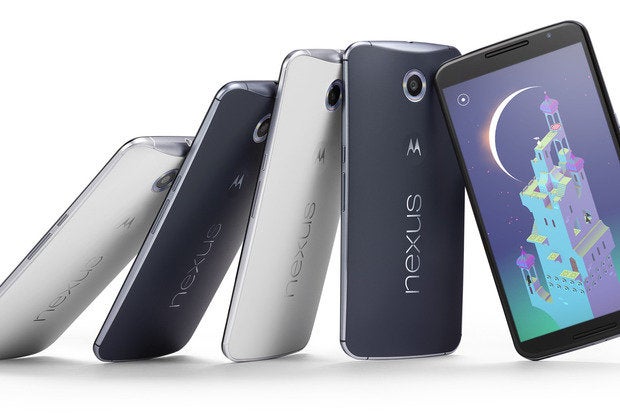 The Nexus 6 smartphone.
Google's new Nexus 6 smartphone will start at $649, unlocked, when pre-orders begin on Oct. 29. The price is nearly double the $349 starting price charged for the Nexus 5 a year ago.
Google didn't elaborate on the price increase after announcing the Nexus 6 on Wednesday, but several analysts said Google may be intending to push the Nexus as a premium brand that can compete with the iPhone 6 and other high-end phones.
Google originally developed Android to be inclusive and global, and indeed, it is the world's largest OS by far. The company developed the Nexus line in 2010 to show Android phone manufacturers, and the public, how a pure Android phone could look and feel without the added features and bloatware installed by phone makers.
Meanwhile, the four national carriers are expected to sell the Nexus 6 with a subsidized price of as low as $200 with a two-year contract, and separate pricing for installment plans. AT&T will be a Nexus provider for the first time, and Verizon Wireless will carry the phone despite a spotty history with the Nexus line.
Such a carrier push to sell Nexus 6 phones with a subsidy seems to indicate that Google is intent on spreading wider adoption of its pure Nexus line that it so far hasn't achieved. Google has long described Android as an operating system for all, but Google also wants to promote a more refined Android device, which it is trying to do with its Nexus line.
The $649 Nexus 6, which will run Android 5.0 Lollipop with support for 64-bit architecture, is a better phone than the $349 Nexus 5 that runs Android 4.4 KitKat. Nexus 6 also starts with 32 GB storage, double the capacity of its predecessor the Nexus 5. (A 64 GB Nexus 6 will run $699 unlocked on Google Play.)
But all the enhancements in the new Nexus 6, including its 5.96-in. Quad HD display and Snapdragon 805 quad-core processor, still don't fully account for the 86% increase in starting price for the unlocked model, analysts said.
Sundar Pichai, senior vice president of Android at Google, noted in a blog post that wireless carriers will offer the Nexus 6 on monthly contracts or installment plans. A number of industry sources predicted the two-year contract price will start at $200, a common industry price for high-end smartphones, including the new iPhone 6.
The four major carriers, Google and Motorola, which is the Nexus 6 manufacturer, all refused to discuss the prices that carriers will charge. They also would not disclose the November release date. However, they did play up the high-quality features of the new smartphone, such as its 13-megapixel rear camera and a 2-megapixel front camera. One big advantage being advertised is the ability to boost the phone's 3220 mAh battery by six hours in only 15 minutes by using a Motorola Turbo Charger.