Yoga Tablet 2 Pro review: Solid productivity features can't make up for its crummy interface
A fantastic, productivity-focused tablet that's marred by Lenovo's subpar Android interface.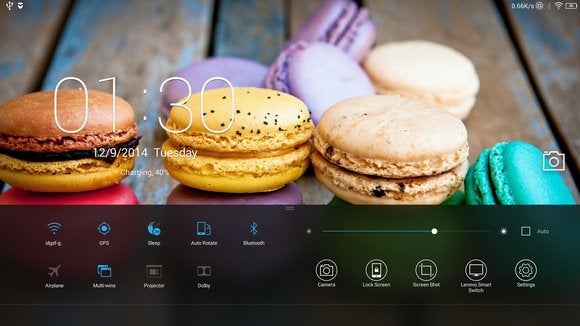 Lenovo's Quick Settings reside at the bottom. Okay.
While there are a few helpful features sprinkled throughout--like a multitasking mode and some options to turn off some of the more annoying aspects of the interface--it's a real pain to use right out of the box. The Yoga Tablet 2 Pro may be a slick piece of hardware, but the interface alone will make you run for cover.
Would you use this tablet/projector hybrid?


FLORENCE ION. A big tablet with a very useful piece of hardware.
If the answer to the above is "yes," then I think I've found your tablet. Granted you'll have to spend some time installing another launcher to get the awful taste of its interface out of your mouth, but overall the Yoga Tablet 2 Pro is a solid device. I didn't mind it's size after a while, either. I was much more productive with Android on a larger screen, and though it was a bit awkward to wield on transit and on the plane, once I got into a groove I managed to feel really productive.
Lenovo knows what professionals want because it's been in the business of catering to that particular clientele for years. As it figures out its Android strategy here in the U.S., I hope the awful launcher and crapware doesn't continue to seep into its Android product lineup. Motorola can teach the company a thing or two about how to make an innovative device without suffocating stock Android with obnoxious overlays and confusing features.
Previous Page 1 2 3 4