Yoga Tablet 2 Pro review: Solid productivity features can't make up for its crummy interface
A fantastic, productivity-focused tablet that's marred by Lenovo's subpar Android interface.
Bear in mind that if the battery is running low the projector won't turn on, even when it's plugged in and charging. Also, the projector part of the chassis gets a little hot during use, though certainly not as hot as a full-size projector.
Long life, sluggish interface
Lenovo says the Yoga Tablet 2 Pro lasts up to 15 hours on its 9,600mAh battery pack, but that depends on your use. It took about two days of varying usage--including a bulk of time where it was on standby--before the tablet needed a charge, and when I finally plugged it in, it took a really long time to fully charge. We'll update this review with battery rundown lab tests.
Inside, the tablet is powered by a 1.86GHz quad-core Intel Atom Z3745 processor with 2GB of RAM, which should be enough for a device of this caliber. However, performance was not up to par with what I'm used to with a fresh-out-of-the-box smartphone or tablet. Not only did it take me a week of constant use to get a hang of Lenovo's custom Android overlay, but the software froze from time to time. There were several instances I had to turn the screen on and off to sort of refresh it because it wouldn't recognize any input.
There's a 8-megapixel rear-facing camera and 1.6-megapixel front-facing camera for video chats and quick snaps. The Yoga Tablet 2 Pro also comes with 32GB of storage space, though only 24GB is immediately available to you. You'll have to pop in a MicroSD card on the back to make more space.
It's not an iPad, so why does it look like one?
If there were Razzie Awards for Android forks, launchers, and overlays, Lenovo's Android interface would come out on top as one of the worst renditions of Android ever.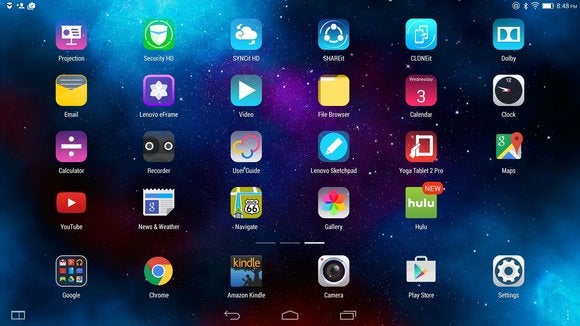 This Home screen is so static and iPad-y.
Lenovo's Android interface is one of the most complicated versions of Android I've ever used. Nevermind that it's built on top of Android 4.4.2 KitKat--Lenovo styled the Yoga Tablet 2 Pro's interface to mirror the iPad's, right down to the annoying folders and apps you can't remove from the Home screen.

WTF? It asks me to place a new app in the appropriate folder. What if I just wanted to hide it away in the Application Drawer?
The rest of the interface is unintuitive. For instance, the Quick Settings shade is at the bottom of the screen, so you'll have to slide up rather than down from the top. Then there's a separate notifications shade with an embedded Settings button that takes you specifically to the settings panel for the notifications shade rather than the general list of settings. It's mind boggling.
Previous Page 1 2 3 4 Next Page