Yoga 3 Pro review: Intel's Core M processor delivers for this hybrid laptop
Lenovo's versatile Windows tablet/laptop offers a new low-power processor and great display.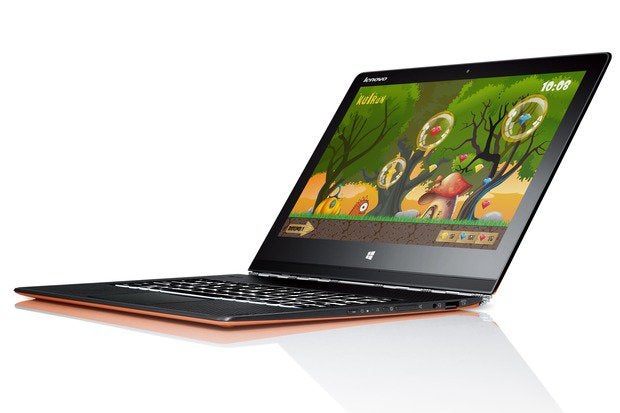 Credit: Lenovo
With a new low-power processor and a sleek convertible design that delivers five different computing modes, Lenovo's Yoga 3 Pro is a hybrid Windows tablet/laptop with an enviable combination of size, weight, battery life and one of the best screens this side of a desktop computer. But is it worth $1,300?
That depends on whether you want to have Intel's latest Broadwell technology under the hood. The Yoga 3 Pro is the first to use the Core M processor (although other vendors, including Acer, Asus, Dell and HP, will follow quickly with their own products).
The Core M processor
A downsized version of the 22-nanometer fourth-generation Haswell Core chips, the Core M uses Intel's 14-nanometer process and low-power 3D transistors. It has 1.3 billion transistors, up from the 960 million used by Haswell Y models, in a package that is half the size.
Many of those extra transistors are for the HD Graphics 5300 video accelerator, which takes up roughly two-thirds of the chip's surface. The graphics engine runs at 850MHz and can deliver up to 3840 x 2160 resolution.
The Yoga 3 Pro's dual-core Core M 5Y70 operates at 1.1GHz but with TurboBoost technology can sprint as fast as 2.6GHz. There are other Core M versions coming with business-friendly vPro security enhancements as well as ones that range from 800MHz to 1.2GHz.
A key differentiator is that the Core M processor uses 4.5 watts -- about the power draw of a child's nightlight -- 60% less than the 11.5 watts that the 1.6GHz Core i5 4300Y CPU uses. That reduction is enough so that the Yoga 3 Pro requires only a small cooling fan.
On the outside
That small fan helps the Yoga 3 Pro squeeze into a case that's only 0.5 in. deep -- 0.1 in. thinner than Lenovo's Haswell-based Yoga 2 Pro. At 12.9 x 8.9 in. and 2.6 lb., it's also about 10 oz. lighter than the Yoga 2 Pro. If you're carrying its two-prong AC adapter as well, the Yoga 3 Pro has a total weight of 3 lb., less than the Yoga 2 Pro weighs on its own.
The system feels good in the hand and has an aluminum base and plastic screen lid. It's available in silver, gold or bright orange.
It has five computing profiles, thanks to Lenovo's innovative watchband-style hinge. Made from 800 stainless steel parts, the hinge attaches the screen to the base at six places and makes it easy to smoothly rotate the screen 360 degrees.
This is about as versatile as a mobile system gets. In addition to being used as a traditional notebook, you can flip the Yoga 3 Pro's screen all the way over, transforming it into a tablet. In between, it can be set up with its keyboard facing down for presentation mode or in tent mode looking like an inverted "V." The system can even be opened flat on a tabletop. Its hinge keeps it stable with only a little wobble.