Yamaha YHT-5920UBL review: If streaming audio is your focus, this home theater in a box has you covered
This well-priced product will sound better than your HDTV's built-in speakers, but it's certainly not a high-end system.
Fine at home, but it's no replacement for the cinema
Spinning up Mad Max: Fury Road on Blu-ray provided a superb test to see how the Yamaha system could handle surround sound. The Yamaha does a decent job at its price point. If you're looking for enveloping sound with some thumping bass, the YHT-5920UBL has you covered. It delivers a very good, but basic surround sound presentation that no TV can match. If you're looking for anything more than that, Yamaha won't fully meet your expectations with this system.
Mad Max: Fury Road has a superb surround mix, but I thought Yamaha's surrounds were a bit too aggressive. But if you like to hear sounds coming at you from all angles—even if that presentation isn't necessarily accurate—then the Yamaha will suit you just fine.
In the opening scene, Max, played by Tom Hardy, tries to flee his pursuers. Cars roar from all around. Having watched this movie in the theaters as well as on several high-end and budget audio systems, I knew that the Yamaha's presentation crushed fine audible details. For example, when Max is captured, his captors try to brand him with a hot iron bearing the fiendish Immortan's flaming seal. The audible sizzle of individual sparks jumping from the hot iron bled together into a single sound.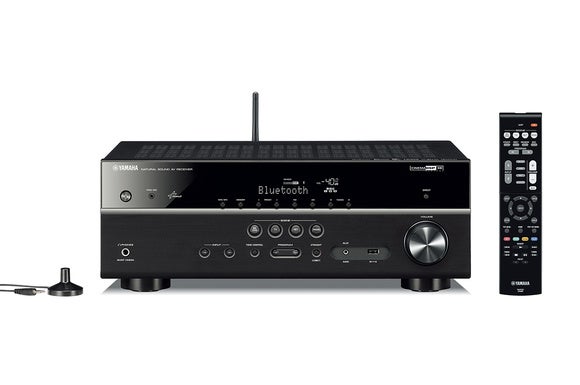 The antenna sticking on the back of Yamaha's receiver enables you to connect it to your Wi-Fi network. Credit: Yamaha
Voices weren't spot on with Blu-ray, either. Charlize Theron, who plays Furiosa, didn't sound like herself; the same was true for the voices of the other actors. Dynamics were somewhat crushed as well, and it was noticeable on bombastic scenes, such as when Immortan's crazed caravan pursues Furiosa and Max with a literal rock-opera entourage. Notes and cues that were clearly audible on more-expensive systems just weren't discernible here. In fact, I found myself wanting to crank up the volume just to hear things more clearly. At one point during one of my weekend listening sessions, my wife asked me why I was playing the system so loudly.
Switching to the Onkyo HT-S7700 or Orb Audio's Complete HTIB setup was no contest. Those other systems articulated much more detail and presented a greater sense of space—albeit at the cost of hundreds more out of your pocket.
Having said all that, the chase and action scenes were fun, with well-presented low-frequency effects. If you're looking for boom boom in your movies, you'll be happy with the Yamaha.
The bottom line
This Yamaha HTIB offering's true strength is its price point and feature set. If you're on a tight budget, love music streaming, and want surround sound that's better than your TV's built-in speakers, then the Yamaha will do you well. If you're serious about exacting audio reproduction, this system won't be your cup of tea.
Previous Page 1 2 3