Yamaha YHT-5920UBL review: If streaming audio is your focus, this home theater in a box has you covered
This well-priced product will sound better than your HDTV's built-in speakers, but it's certainly not a high-end system.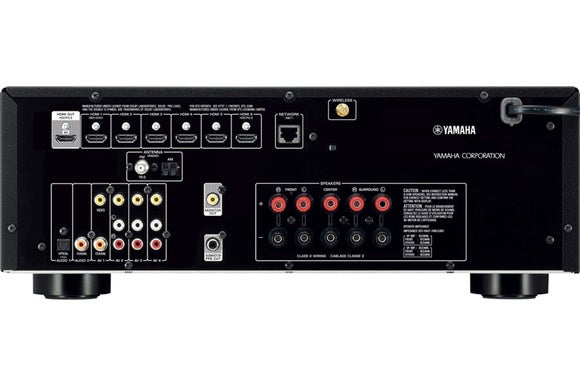 Yamaha's receiver has fewer legacy inputs and outputs than Onkyo's, but it covers most of the basics (and it's much more comprehensive than the Denon receiver in the Orb bundle). Credit: Yamaha
System setup
The Yamaha HTIB was easy to set up. In addition to the included manuals, Yamaha makes available an iOS and Android tablet app called AV Setup Guide that will take you through setting up your system and making the right connections with detailed illustrations.
If you're intimidated by connecting equipment to your wireless network, don't be; the Yamaha makes it easy. And if you're an Apple iOS user, it's a piece of cake. Just follow the on-screen prompts and the Yamaha will instantly copy the network settings from your iOS device. At the click of a button, you're done and your entire system is online.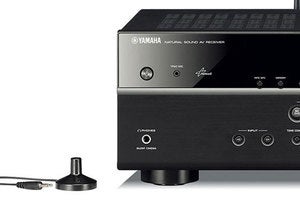 This microphone and software built into Yamaha's receiver can help compensate for a room's poor acoustics. Credit: Yamaha
The most difficult part for novice users will be stripping the insulation from the speaker wires. The Yamaha receiver comes with a basic version of the company's YPAO (Yamaha Parametric Acoustic Optimizer) for automated speaker setup.
Don't be confused by the name. You still need to place your speakers properly, but YPAO will help compensate for acoustic anomalies in your room. Just hold the included microphone at ear level and let YPAO do its magic.
Musical performances
It wouldn't have been fair of me to expect audiophile-class performance from a $600 home-theater setup, but I did anticipate something better than what the typical HDTV could put out—and that's exactly what I got.
The speakers imaged well while playing the Star Wars: The Force Awakens soundtrack in 2.1-channel stereo; however, the music suffered from significant coloration. Instruments didn't sound completely natural. John Williams' score makes ample use of brass and strings, and the brass instruments were completely robbed of their sparkling top end, while the strings lacked warmth and finesse.
Familiar singers I listened to didn't sound completely right either; things were just off. Listening to various tracks by U2 and Loreena McKenitt, for example, some of the distinctive textures of both Bono's and McKenitt's voices came across blurred, for lack of a better term. There was a persistent boxiness to the sound, too, which was I think was exacerbated by a palatable lack of dynamic range. Was all this better than typical TV sound? Sure. But it didn't excite me.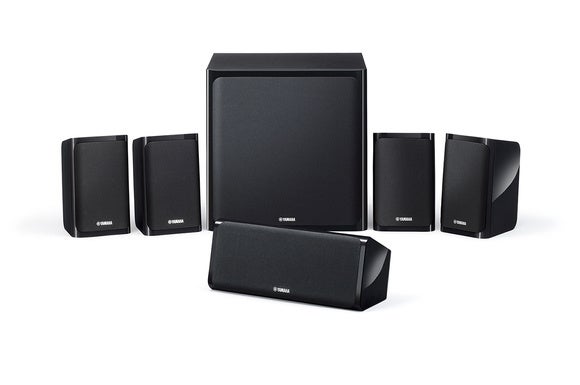 Yamaha's speakers are small and the satellite cabinets are made of plastic. Credit: Yamaha