Yamaha YHT-5920UBL review: If streaming audio is your focus, this home theater in a box has you covered
This well-priced product will sound better than your HDTV's built-in speakers, but it's certainly not a high-end system.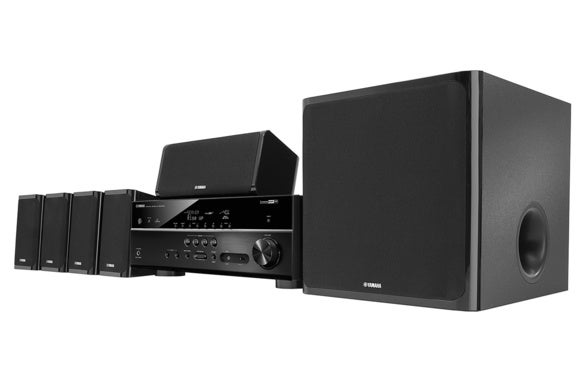 When it comes to the world of music, there's arguably no company more intimately involved in so many aspects as Yamaha. The company produces musical instruments, hardware for commercial and home recording studios, and products for the consumer home theater. Few manufacturers can match its depth and breadth when it comes to sound, and they have something for every budget.
Yamaha's $600 YHT-5920UBL Home Theater in a Box (HTIB) is an entry-level system for people on a budget who want basic surround sound and the latest network-streaming features. It's a 5.1-channel system with five satellite speakers, a powered subwoofer, Yamaha's RX-V479 A/V receiver (available separately for $399), and the wires needed to connect everything. The satellite speakers are small, black plastic cabinets housing 2.75-inch full-range cone drivers. They'll fit discreetly into most home décor. I'd describe them as utilitarian, not audiophile grade. The subwoofer consists of a 100-watt amplifier driving a 6.5-inch cone. By subwoofer standards, it's a light 17.6 pounds.
The receiver is the story
Yamaha's RX-V470 AV receiver is the star of this show. Its amplifier is no powerhouse, being rated at just 80 watts per channel with two channels driven, but the receiver delivers more features than you might expect for its price tag: Wi-Fi, Wireless Direct, and ethernet. Apple AirPlay support will enable you stream from any iOS device and Bluetooth support will handle anything else.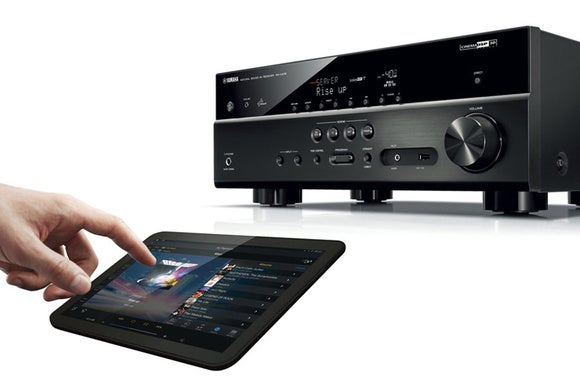 Yamaha's YHT-5920UBL HTIB features MusicCast, the company's multi-room audio technology that competes with the likes of Sonos. Credit: Yamaha
AirPlay is Apple's solution for multi-room audio, but the RX-V470 also supports MusicCast, which is Yamaha's own multi-room solution. You can read more about MusicCast here. Spotify and Pandora music-streaming services are built in. The receiver can decode just about any audio codec, including high-resolution FLAC and ALAC files and even DSD audio. In other words, if you have a digital music file, you can be confident that the Yamaha will play it.
There are six HDMI inputs, but only one HDMI output; you'll need an HDMI matrix if you want to connect both a TV and a video projector to this receiver. You'll also want to know that only one input is certified for 4K UHD content with HDCP 2.2 copy protection (its one HDMI output also supports those standards). There are two coaxial and one optical digital-audio inputs; three RCA stereo inputs; four composite video inputs; and a composite monitor out. In other words, there isn't a lot of support for legacy hardware—but how many of us are still holding onto much of that stuff these days?