With Amazon's Fire phone, persistence may be key
Bezos says 'stay tuned' for future iterations.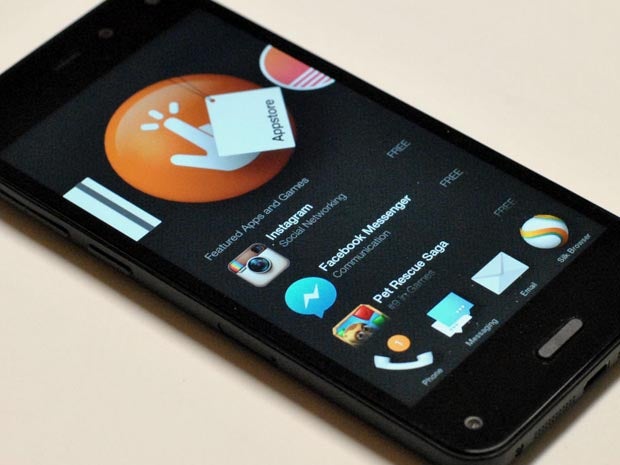 Slow sales of Amazon's Fire phone have led to discounted prices for the device. Credit: Jared Newman/PC World
Amazon, one of the world's most powerful online retailers, has focused considerable marketing attention on its first-ever Fire smartphone, which by all accounts got a skimpy customer response after it launched in August.
In its most recent maneuver, Amazon extended its recent $199 discounted price for its unlocked Fire phone because the customer response was "exceeding expectations," an Amazon spokeswoman said Wednesday.
The $199 offer (including a full year of its Prime service, valued at $99) was set to end at 11:59 p.m. PST Wednesday when the unlocked price (for use on several GSM carriers) reverts to $449.
With the lower price, Amazon also created a separate web sales page for the unlocked Fire phone that left out thousands of earlier customer reviews, many of them negative.
Creating a separate web page for the unlocked device earned scorn from Patrick Moorhead, an analyst with Moor Insights & Strategy. "With the Fire phone, Amazon has done a masterful job in gaming its own review system ... showing just how intent Amazon is to flush excess inventory to get at least some value out of the Fire phone before it becomes obsolete next year," he said.
Another analyst, Jack Gold of J. Gold Associates, said starting unlocked sales on a separate page with a new set of customer reviews is just par for the course. "All vendors try to manipulate reviews to favor their products, and those who say they don't are not truthful," he said.
When the discount began on Nov. 25, Amazon said the $199 price for the 32 GB version of the Fire would last only through Cyber Monday (Dec. 1), but Amazon extended that by two days.
Amazon's $199 price was 69% below the original $649 price first offered in August for a 32 GB Fire phone that was locked to AT&T's network but sold with no contract. In September, Amazon dropped the price to $449 while the subsidized price on AT&T with a two-year contract dropped from $199 to 99 cents.
What's driving Amazon
The pricing changes and other marketing moves have clearly been designed to boost Fire sales because of a poor customer response, bad initial pricing and a highly competitive smartphone market. Depending on whom you ask, Amazon has either been masterful with its marketing adjustments or manipulative.
After its successes in selling its earlier Kindle e-readers and Fire tablets, Amazon's response to boost lackluster sales of the Fire phone offers a case study on how an online retailer works to prevent a disaster.