Windows 8.1 video tour puts a friendly face on the Start screen
Microsoft's pulled some of the best features of Windows Phone out into its new revision, and taken a step forward.
Desktop wallpaper and personalization options
Another handholding feature for the newbies, Microsoft has also said that the compamny will allow users to change the background color of the Start screen. In a nod to the sort of full-motion backgrounds that now appear on some Android smartphones, Microsoft also said that it would add a few quasi-interactive, moving backgrounds, such as a dragon.
And in a nice touch, the Start menu will now be able to share the same background image as the Desktop. Sadly, this may be the most important component of the video. Simply syncing the background image of the two UIs goes a long way to implying that they're part of a cohesive whole. If I were Microsoft, I'd be tempted to make this the default option.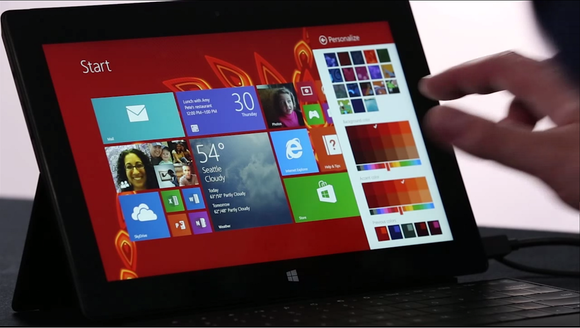 Search improvements
Microsoft has revamped the Search app to give results a more "app-like" feel, with a flood of text, images, related searches, and other content. Frankly, if you're used to living within a Google text-based environments, the gush of multimedia is going to feel a little overwhelming. Basically, if you're looking for an answer, it's not clear that the revised Search is going to deliver what you're looking for. But if you're performing a topic search on a celebrity or band, the revamped search may offer a lot more what you're looking for.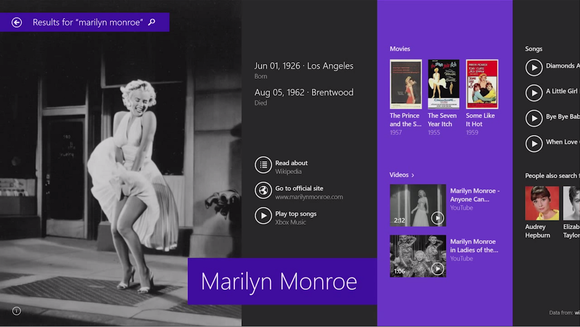 Microsoft has also revamped its own internal search, so that the Web is better integrated with search results. Put another way, simply inputting a few letters into the search box will pull up internal apps and settings as well as external search results. It sounds a little overwhelming, but maybe it will work better in practice.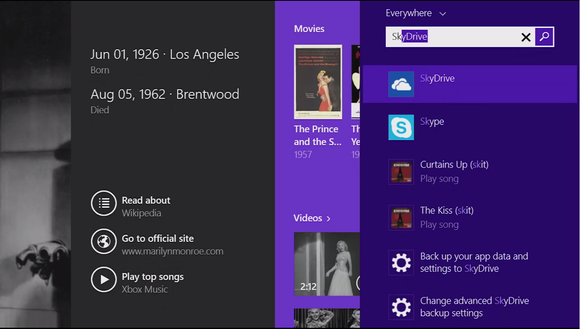 SkyDrive integration
Virtually every app within Windows 8.1 includes SkyDrive integration, allowing users to save their files in the cloud. However, users also have the ability to save their files locally, and not on SkyDrive, for additional privacy.
App splitting
To this day, I really have no idea why Microsoft continues to be so proud of this feature. Yes, two apps are running side by side, which may be a parallel programming trick that I'm unaware of. But sizing windows next to each other so that the results from more than one can be viewed simultaneously has been a feature of Windows, since, well, Windows.
Larger screens will support four apps running at once. Hurray!
One nice feature: photos displayed using the Photo app can be edited somewhat within the app itself, making them appear more attractive.