Windows 8.1 video tour puts a friendly face on the Start screen
Microsoft's pulled some of the best features of Windows Phone out into its new revision, and taken a step forward.
Gosh, the new Windows 8.1 Start screen is so gosh-darned friendly!
And you know what? It is. Microsoft's pulled some of the best features of Windows Phone out into its new revision, and taken a step forward. Purists may still dislike the fat, space-sucking fonts and live tiles, but there's an indubitable appeal to displaying pictures of one's loved ones when the PC is not in use.
Jensen Harris of the Windows User Experience team outlined some of the new features in a video the company posted to YouTube, and which we've embedded below. For more explanation of the Windows 8.1 consumer-focused features, see our previous coverage; Microsoft also tipped some Windows 8.1 features that should appeal to businesses, too.
Let's take a look at the new features.
Lock screen enhancements
According to Harris, the new lock screen automatically pulls photos from your PC, your phone, and SkyDrive. Granted, you could end up showing the world (and your coworkers) some Hangover-styled shots, but in general I've been very impressed by how the Facebook app for Windows Phone already does this. It's a small touch, but for those who are still unfamilar with Windows 8, this could be a real winner.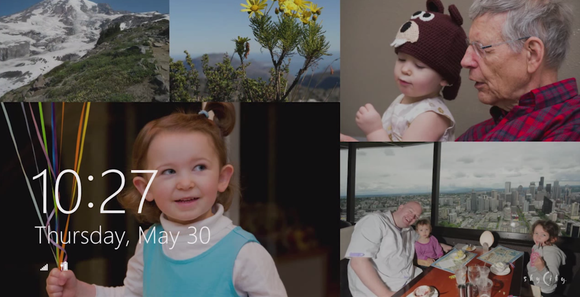 Differerent tile sizes
Microsoft also resized the tiles that are available within the Windows Start screen to include larger and smaller formats. It's hard to see how this will make much a difference to power users, but those who want to pin more apps to the Start screen (without having to scroll, scroll, scroll) will probably find this useful. Harris also notes that the larger format could display several emails or a whole day's worth of appointments.
Note that Microsoft's video doesn't actually show off anything in the Desktop, so you don't see anything in regards to the new Start button there.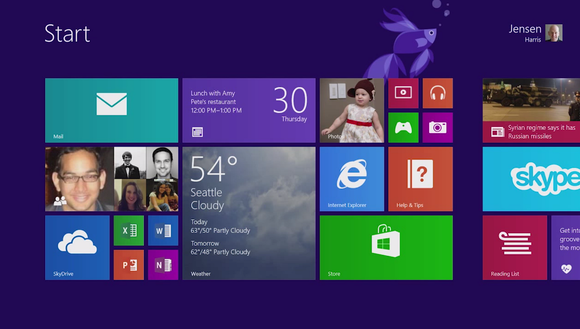 All apps screen
Microsoft has also revamped its "all apps" screen to better organize the, er, list of apps. Again, it's not Windows 7 Start menu; there doesn't seem to be any way of reorganizing the apps in folders, for example. However, selected apps can be pulled out of the "all apps" screen and pinned to the Start menu in groups, kind-of sort-of recreating the Windows 7 functionality. This is going to strike some as a very artificial limitation, including me.
For many of us used to embedding dozens of apps and/or games, there's still the possibility that you'll forget the name of the one you rarely use, and be forced to go hunting through the list of apps to find it. The ability to add a "other utilities" folder (one that wouldn't have to necessarily clutter the Start screen) seems like it would be quite useful.