Windows 10's decade of support starts when customer begins using the OS
Microsoft will provide feature and functionality updates and upgrades to Windows 10 for a full decade from the time the OS is purchased, an analyst briefed by the company said.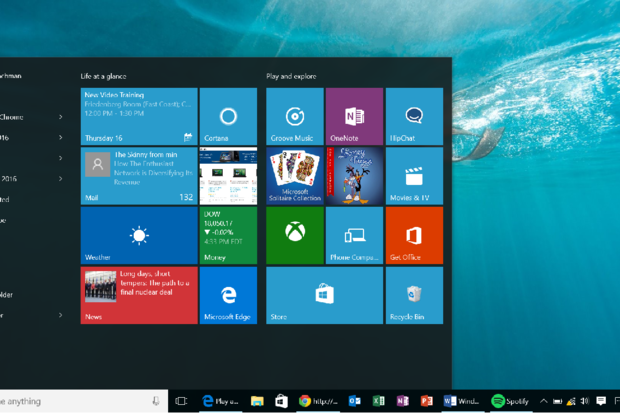 Credit: Mark Hachman
Microsoft will provide feature and functionality updates and upgrades to Windows 10 for a full 10 years from the time the OS is purchased -- as part of a new device, for example -- an analyst briefed by the company said Tuesday.
"Microsoft's intention is that you will get 10 years minimum of updates for Windows 10, both feature and security updates, from when you get it," said Steve Kleynhans, a Gartner analyst who tracks the Redmond, Wash. firm [emphasis added].
Kleynhans, who had long pressed Microsoft for clarification on its vague statements about Windows 10 support, was paraphrasing from an email Microsoft sent Tuesday after he had again queried the company. He declined to share the exact contents of the email with Computerworld.
"They intend to provide the full 10 years of support, which means giving feature and security updates for that computer for 10 years, provided the OEM [original equipment manufacturer] continues to support the device," Kleynhans added. "If something happens, say you have a device with a 16GB SSD [solid-state drive] and suddenly at some point they can't fit Windows 10 on a 16GB SSD, sorry, you're out of luck. They'll support [Windows 10] until the hardware physically can't handle it." Or until the decade expires, whichever comes first.
The crucial part of Microsoft's plan: The clock starts when the customer first starts using Windows 10. "If I bought a new PC four years from now, I will get 10 years from that point," said Kleynhans.
That's a huge change from Microsoft's current support policy. Since 2002, Microsoft has promised to support each Windows edition -- Windows XP, Windows 7, Windows 8 -- for 10 years, but the start time began when Microsoft released the product, not when the customer acquired it. And Microsoft set exact deadlines when support expired.
Windows 7's support, for example, will end in January 2020, 10 years and a few months after its October 2009 debut. But new Windows 7-equipped PCs purchased today -- computer makers still sell them -- will receive updates, solely security updates at this point, only for the next four-and-a-half years.
Kleynhans did not outline how Microsoft will keep track of Windows 10's support decade, but one possibility is the product activation date of the OS; another is to track the date when the user first logged onto the machine with Microsoft Account credentials.
On Friday, Microsoft amended its support lifecycle fact sheet -- a page that lists how long updates will be provided for each edition of Windows -- to include the new OS, which launches next week. On the fact sheet, Microsoft listed Windows 10 in the traditional "Mainstream" and "Extended" five-year stretches.