Windows 10 PCs for back-to-school? Highly unlikely
Even if Microsoft wraps up the OS by July, OEMs will keep selling Windows 8.1 PCs, say analysts, then tell customers to upgrade.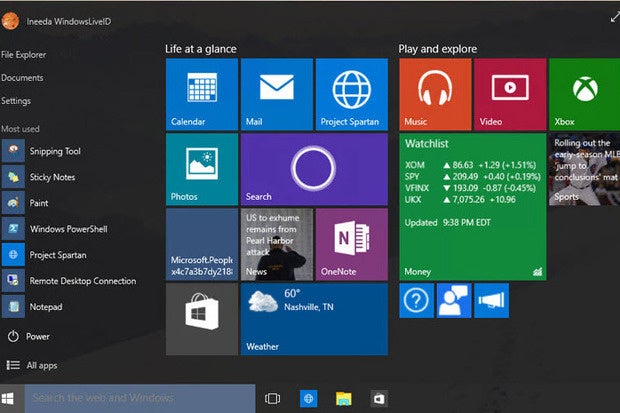 Start Menu: Windows 10 Build 10056
Barring a miracle, devices pre-loaded with Windows 10 won't make it to stores in time for the back-to-school sales season, whether Microsoft issues the OS in late July or not, analysts asserted today.
"I would be really surprised if channel product was on the shelf with Windows 10 in July," said Patrick Moorhead, principal analyst at Moor Insights & Strategy, and before that, an executive at chipmaker AMD and with Compaq, the PC maker purchased by Hewlett-Packard in 2002. "I was in OEM for 10 years and was the one who signed off on images [to be installed on PCs]. OEMs get a master [from Microsoft], but then build their images on top of that. Even the fastest OEMs might take one to two months, for some three to four months.
"I just don't know where they'll find the time to make back-to-school," added Moorhead.
Moorhead and others were reacting to comments made two weeks ago by the CEO of AMD, Lisa Su, who said that Windows 10 would "launch at the end of July." She also mentioned back-to-school, the second-biggest consumer technology sales season in the U.S., behind only the end-of-the-year holidays. "We are watching sort of the impact of that on the back-to-school season, and expect that it might have a bit of a delay to the normal back-to-school season inventory build-up," Su said.
Her loose talk about July -- Microsoft has declined to confirm the July timetable, and has stuck with its wider "this summer" window -- triggered certainty by some that Microsoft would ship Windows 10 then, but skepticism by others that a launch would be feasible given the OS's current rough edges.
Even if Microsoft does push Windows 10 out the figurative door in late July, it's hard to see how or why hardware makers would get products to retail in time for back-to-school, which runs for about seven weeks starting in late July, said Stephen Baker, an analyst with the NPD Group who specializes in technology retailing.
"I don't see a wholesale jumping into the back-to-school market with Windows 10," Baker said. "You can fill the channel in a very short period of time, a matter of a couple of weeks. The challenge is what's still on the retail floor. Execution of a switch-over [from Windows 8.1-powered product to devices running Windows 10], that can be challenging."
Typically, OEMs like to "sweep" retail of virtually all old product -- those running, say, Windows 8.1 -- as they simultaneously substitute new PCs, 2-in-1s and tablets, in this case powered by Windows 10. Doing that during the big back-to-school season would be difficult without also interrupting (and damaging) sales.