Windows 10 just beat Ubuntu to the smartphone-PC convergence punch
With Windows 10's universal apps and Continuum for phones, Microsoft is turning Ubuntu's dream of convergence into cold, hard reality.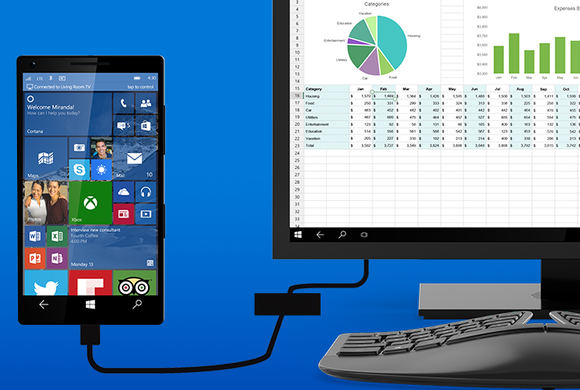 Microsoft's ploy to transform Windows Phones into full-blown Windows PCs when connected to an external monitor may seem revolutionary, but it's nothing new. At least not in theory.
Canonical has been pitching an exciting vision of smartphone-PC convergence for years. The audacious Ubuntu Edge project achieved over $12 million in crowdfunding pledges because of this promise. Your phone could run a full operating system that functions like any other mobile OS in normal use. Dock it to a larger display, however, and you'd get a traditional desktop interface with more powerful applications.
This is the long-term vision of Ubuntu phone--but Ubuntu phones have been delayed time and time again. While the BQ Aquarius phone is now out in Europe, the rest of us are still waiting for the Meizu MX4. What's more, these phones don't provide "convergence" at all. That goal is still years in the future for Canonical. Canonical has shifted to touting Ubuntu phone's unique interface and design instead.
Ubuntu may have beaten Windows to the idea of phone-PC convergence. But it's something Microsoft is about to launch this year with Windows 10 phones, and in some ways, Microsoft's vision even outshines Canonical's.
Windows 10's "Continuum for phones"
Microsoft's bold move is made possible by a new feature in Windows 10 known as "Continuum for phones."
Continuum is the Windows 10 feature that allows a PC to switch between tablet-optimized and desktop-optimized interfaces when a keyboard is plugged in or removed. Continuum for phones is a feature that will let you plug a Windows phone into a larger monitor or dock and get a full Windows desktop powered by your phone.
Microsoft unveiled Continuum for phones at Build 2015. Connect a Windows phone to a monitor and a Windows desktop appears on that display. The phone can function as a makeshift mouse and keyboard, or you can connect physical mice and keyboards. Your phone functions as the brains, providing all the processing power you need to use applications in a desktop interface. You can even continue to use the phone's interface while it's plugged in, using both the phone interface and desktop interface at once, all powered by the same chip.
Theoretically, Windows 10's Continuum for phones could even one day use Miracast or a similar standard to wirelessly power a display without needing to plug your phone into a monitor.
Windows 10's "universal apps," which appear in smaller, finger-friendly form on phones, will scale up to their full desktop interfaces when you're using Continuum for phones. With Windows 10, this now includes the universal versions of Word, Excel, PowerPoint, and other powerful applications, and Microsoft's actively working to get developers to stock the Windows Store with more universal apps, including sandboxed versions of traditional Win32 and .NET-based desktop software.