Why you should pay attention to Microsoft's Windows 10 revenue deferral
Deferrals will be tied to 'supported lifetime of the device,' which is how long Microsoft will provide Windows 10 with free upgrades.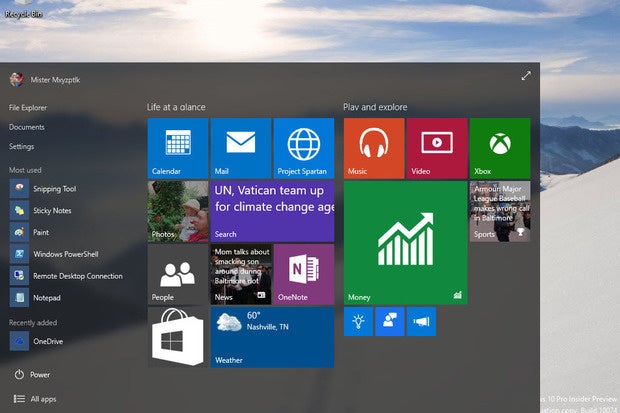 Start Menu: Windows 10 Build 10074
Microsoft last week said it would defer revenue from the sales of Windows 10 licenses, a move that will affect its financials and trigger a meeting later this year to explain the ins and outs to Wall Street.
The revelation will also affect customers because the deferral will be tied to the "supported lifetime of the device," a phrase Microsoft has used for several months to describe how long it will provide free updates and upgrades to Windows 10.
Rather than record the full amount of income received from the sale of Windows 10 licenses, Microsoft will immediately book only part of each license's revenue, then defer the remainder until later.
Microsoft will defer revenue from licenses sold to OEMs (original equipment manufacturers) and other customers because it has promised to provide new features and enhancements free to users of the operating system.
For accounting purposes, a free upgrade requires a company to set aside some revenue from the sale of the affected software — in this case, Windows 10 — then recognize that revenue only when the upgrade is released. All the revenue from the software sale is eventually recorded, but at staggered intervals.
"Windows 10 does provide new features and functionality over time," said Chief Financial Officer Amy Hood in a meeting with financial analysts last week as she described the new deferrals. "Cash flow will look exactly the same. But we will have a deferral impact that will impact both the P&L [profit and loss statement], as well as the balance sheet."
Microsoft has never deferred Windows license revenue like this, although it has long deferred income from enterprise annuity programs, such as Software Assurance, and long-term contracts for software and services. Office 365 revenue, for example, is deferred over the life of the subscription, which is typically one year. Rather than account for the full amount paid by a consumer for Office 365 Home, Microsoft splits that number into four equal parts, then recognizes one each quarter.
The length of the Windows deferrals was not disclosed, but will be tied to what Microsoft eventually defines as the supported lifetime of the device, the term it first used in January when it said a Windows 10 upgrade from Windows 7 and 8.1 would be free for a year.
"This is so much more ... than a free one-time upgrade," said Terry Myerson, the Microsoft executive who heads the operating systems group, in January. "Once a device is upgraded to Windows 10, we will be keeping it current for the supported lifetime of the device [Emphasis added]."