Why we need Nexus phones more than ever
Android manufacturers can't stop mucking up Android. Here's why we still need Professor Google to give everyone an object lesson in how to make a proper Android phone.
Bloatware: still nonsense
While the bloatware situation has somewhat improved, it's still rather terrible. Take this example: on the Galaxy Note 5, you can't install Word, Excel, or PowerPoint from the Play Store. Nope—you have to get them from Samsung's own Galaxy Apps market.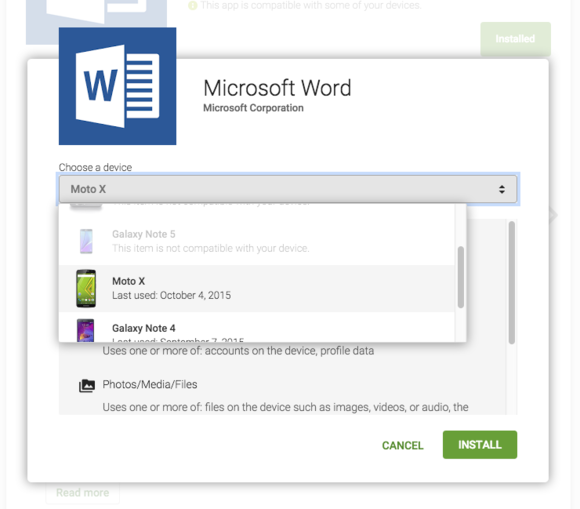 You want Word on your Galaxy Note 5? Too bad! Credit: Google Play Store
It's one of those partnerships that is great for Samsung and Microsoft, but terrible for you.
That's why when I first fired up my Note 5 I had to constantly tell OneDrive to stop pestering me to backup my photos. Then I had to get rid of Flipboard Briefing, which takes over an entire home screen. It's ridiculous that the standard procedure for setting up a new Android phone is to spend an hour de-bloating all the apps and services you don't want. Yes, Apple includes apps you probably don't want, but at least all you have to do is drag those into a folder and they're out of your way.
This is another place where OEMs need to look to Google—the company recently sliced out Google+, Play Books, and Newsstand from the list of required apps. We need fewer preinstalled applications, not more.
At least Motorola has distinguished itself by sticking to the stock Android interface, and making its phones available directly, without carrier bloat (or price overhead). But the yin to that yang has been a string of bad cameras, with the exception being the good-but-not-great Moto X Pure Edition.
We've said it plenty of times: leave Android alone.
Update madness
The fatal flaw of the Android ecosystem is the unwillingness of OEMs and carriers to deliver timely Android updates. Lollipop has been out for a year, but it's only on one-fourth of the Android phones worldwide.
The situation is better with flagship devices, as most have been updated to Lollipop. But it will be several weeks, if not months, before Marshmallow comes to your non-Nexus phone.

The data was collected by Google during a seven-day period that ended Oct. 5. The OS versions are tallied when devices access the Google Play Store. Click on image to enlarge. Credit: Android Developers
It's frustrations like this that send people back to the iPhone. When Apple pushes out an iOS update, it's available for your device that day. Yes, Google has wisely moved its apps to the Play Store and a ton of features to Google Play Services, which it can directly control and easily update. But key functions, like Marshmallow's new Doze battery-saving feature, come only in new OS updates. And who knows when you'll get one.
Previous Page 1 2 3 4 Next Page