Why Tesla's Model 3 should frighten Audi, Mercedes and BMW
Model 3 pre-orders blow past company's full-year predictions in just 24 hours.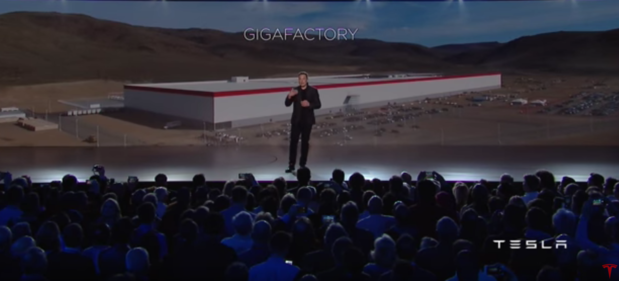 Tesla CEO Elon Musk discusses the now operational Gigafactory's role in producing low-cost lithium-ion batteries for the Model 3. Credit: Tesla
Investors seem to agree that the Model 3 will be a big seller. Tesla's stock on Friday rose 8% (to $246 per share) shortly after markets opened. By noon, that uptick had settled back to a more moderate 4% increase (at $237 per share).
Like other Tesla vehicles, such as Model S, the Model 3 supports over-the-air software updates. It will also feature Tesla's Autopilot safety features, such as lane-keeping and adaptive cruise control.
Tesla has a enormous advantage over traditional carmakers because it is able to use more modern electronics, according to Juliussen. Traditional automakers use a three- to five-year vehicle design schedule, meaning once they choose an electronics platform for the infotainment system and other electronic control units, it's set in stone and the electronics could be years-old by the time a vehicle hits the market.
"Tesla designs their electronics much closer to deployment time," Juliussen said. "That gives them a more advanced design for the electronics. It also gives you more performance, and more memory for the dollar. That's why I think they're able to offer Autopilot in the Model 3, which was a $10,000 upgrade on the Model S."
"I think they'll compete pretty well against other [carmakers]," he continued. "Someone may have a lower starting price, but then they don't have the Autopilot."
Previous Page 1 2 3