Why Tesla's Model 3 should frighten Audi, Mercedes and BMW
Model 3 pre-orders blow past company's full-year predictions in just 24 hours.
"The total number of orders for the Model 3 in the past 24 hours has now passed 115,000," Musk said during the unveiling presentation. (As of today, that number has surpassed 133,000, and considering consumers have to plop down $1,000 to reserve the Model 3, Tesla fans are ready to put their money where their mouth is.)
"It's astonishing that people would put down $1,000 before even seeing the car," Robinson said. "Consumer enthusiasm for Tesla has always been very high. It's like the Apple of the auto world."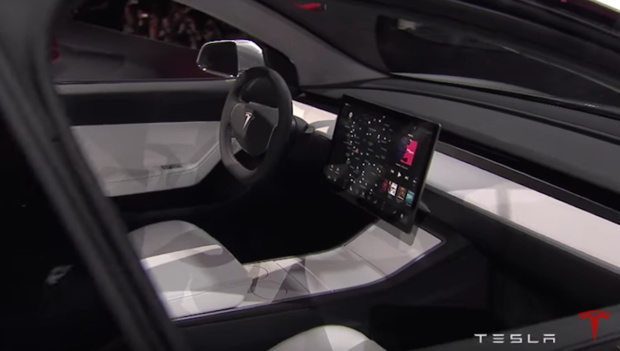 A look at the interior of the Tesla Model 3 with its tablet-sized infotainment system. Credit: Tesla
"If there's that many people willing to put down $1,000, that's the indicator that they hit it right," said Egil Juliussen, director of research for Infotainment & Advanced Driver Assistance Systems at IHS Automotive.
Prior to the launch on Thursday, Evercore ISI analyst George Galliers had predicted about 55,000 preorders in the first 72 hours and a little more than 117,000 orders by year's end, which he said would be a "huge achievement."
Tesla is "a compelling product," Galliers said, alluding to the fact that despite low oil prices, the companies EVs are still attracting consumers in big numbers.
The Model 3's EV batteries have to get a lot cheaper by 2017 if the vehicle is to live up to its billing, according to MIT's Technology Review. Tesla's lithium-ion vehicle battery represents a quarter to a half of the total build cost of the Model 3, according to MIT.
Musk's plan is to ramp up battery production at "Gigafactories," like the $2 billion, 10 million-square-foot factory being built outside of Reno, Nev., and use economies of scale to reduce the cost of EV batteries about 40%.
"Certainly the batteries are expensive, but that's part of the motivation of the Gigafactory achieving economies of scale," Robinson said.
Along with the Model 3, Musk announced the Reno Gigafactory is already in production.
Tesla has partnered with Panasonic to develop a new technology that combines silicon with the graphic lithium-ion batteries used in their anodes.
"In order to produce a half million cars a year, we'd basically need to absorb the entire world's lithium-ion production. That's why we're building the Gigafactory. This is a vital element," Musk said. "The Gigafactory will have the largest footprint of any building of any kind. It will produce more lithium-ion batteries than all other factories in the world combined in this one location."
"So we're talking about 50GW hours a year of production," he continued. "It will also be producing the most advanced cell and battery in the world. So, it's the combination of high volume and the most advanced technology that will enable us to make the Model 3."