Why Tesla's Model 3 should frighten Audi, Mercedes and BMW
Model 3 pre-orders blow past company's full-year predictions in just 24 hours.
Tesla CEO Elon Musk last Thursday unveiled the long-anticipated Model 3, a four-door mid-size sedan that takes aim at the mass market in ways unlike the all-electric vehicles (EVs) Tesla has released to date.
The Model 3, which won't ship until mid-to-late 2017, has a starting price of around $35,000. That contrasts starkly with other Tesla sedans, which have a starting price of about $70,000. And, Musk said, it will be one of the safest cars in the world. That's because the Model 3 will include Tesla's Autopilot feature.
That $35,000 price tag, before government EV tax incentives, means the Model 3 beats rivals such as the BMW 3 Series, according to Chris Robinson, an analyst with Lux Research.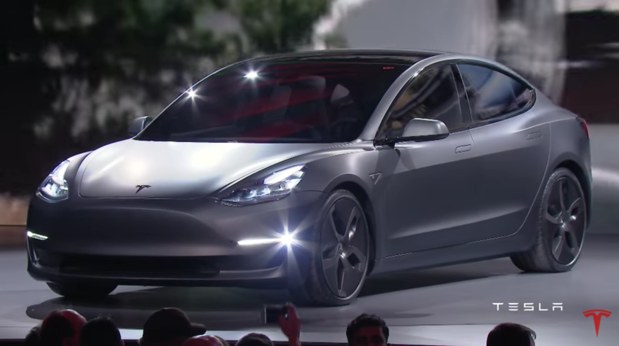 The Tesla Model 3. Credit: Tesla
"Just a base 3 Series with no options and the smallest engine is priced at $33,000. In both looks and performance this is a car that can certainly compete with that," Robinson said.
The Model 3 is squarely targeted at not only the 3 Series, but other low-end luxury cars, such as the Mercedes C Class, with a starting sticker price of $38,950, and the Audi A4, which starts at $37,300.
BMW's new i3 EV is a two-door compact with a starting price of $42,400 that gets 81 miles on a full charge. And there are other, less-luxurious EV rivals. Chevrolet's 2017 four-door Bolt EV, which can travel about 200 miles on a single charge, will have a starting price of $37,500. The 2017 Chevrolet Volt LT, also a plug-in hybrid sedan, will start at $34,095, while the Premier model will start at $38,445.
With a federal EV tax credit of $7,500, the Model 3's total cost may fall well below $30,000 -- and that doesn't include state tax credits.
The Model 3 can travel up to 215 miles on a single charge and go from 0-60 mph in less than six seconds. The entry-level Mercedes C-class moves from 0-60 mph in 6.3 seconds.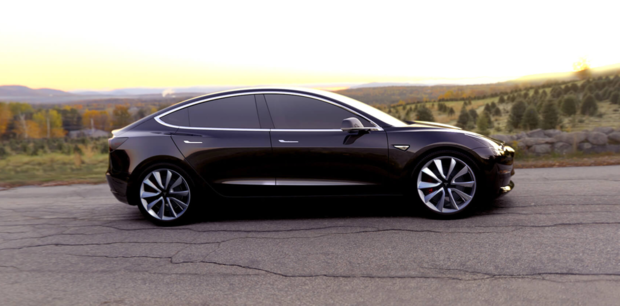 The Tesla Model 3. Credit: Tesla
"The thing about electric cars is they're quick. Electric vehicles have instant torque, which internal combustion engines don't have," Robinson said. "When it comes to acceleration, it's tough to beat an electric vehicle."
Like Tesla's other vehicles, the Model 3 will be able to use the company's long-range Supercharger network, which informs drivers where the nearest chargers are located. Displaying those charging stations is Tesla's tablet-sized infotainment system.
Some pundits are calling the vehicle "the most important car Tesla has ever made," and judging by the number of pre-orders, they may be right.