Why Microsoft must become Apple and Google
Can't beat 'em? Then join 'em. Microsoft's future may lie in stealing the strategies of its most bitter rivals.
The winds of change are a-blowin' through the PC industry, and those winds have left Microsoft clutching at its market share and searching for relevance. Windows 8 is Microsoft's first major effort to weather the tempest, but no operating system alone is enough. True salvation lies in adopting the strategies of enemies.
Indeed, to shore up its future and compete with Apple and Google, the once infallible software giant must become Apple and Google.
The need for drastic measures stems from the startling fact that Windows no longer rules the computing world with an iron fist. Sure, it still presides over the desktop; but thanks to the rapid rise of tablets and smartphones, Forrester Research estimates that globally Windows beats at the heart of just 30 percent of all consumer computing devices--a staggering 40 percent drop in just four short years. If it wants to stay relevant in the new normal, Microsoft needs to change something fast.
That "something" doesn't involve reinventing the wheel (though it has involved reinventing Windows). Instead, Microsoft should take a few pages from the playbooks of its uber-successful rivals.
Going Google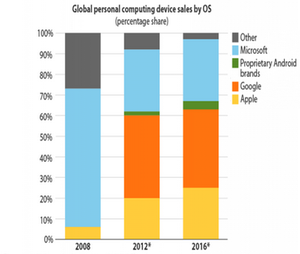 First and foremost, Microsoft needs to remember that it's a software company, not just a Windows company. Take another look at the chart above. If you include mobile platforms in your calculations, a full 70 percent of computing devices run an operating system that isn't named Windows. Recent figures from multiple research firms indicate that Android and iOS power more than 90 percent of all smartphones and tablets sold in 2012. Those crazy-high numbers represent hundreds of millions of users who are currently underserved by Microsoft.
In these days of rampant second screens and tertiary tablets, a software company leaves a bunch of potential customers outside its reach when it dedicates itself solely to the Windows ecosystem. Worse, an OS-specific company risks seeing its customers high-tail it to greener pastures--aka platform-agnostic software that works equally well across the multitude of existing devices. That's even true in the business realm, long a Windows stronghold, as more and more companies embrace the BYOD trend.
The cross-platform gold standard, of course, is Google, which shotguns its software far and wide despite owning two perfectly viable operating systems of its own in Android and Chrome OS. (Admittedly, Google hasn't developed many dedicated apps for Windows 8 or Windows Phone 8, but the company has said that it will do so if those platforms become popular.) Dropbox, Evernote, and Netflix follow a similar path: supremacy through ubiquity.
Microsoft has already dabbled in the cross-platform waters, releasing several apps for iOS and Android, but those apps have mostly been second-tier software, not premier programs such as the company's seminal Office suite. That could change soon. Mobile Office apps are said to be in the works, though experts expect them to be free apps tethered to a premium Office 365 subscription, in an effort to avoid giving Google and Apple a cut of the revenues. Bob O'Donnell, program VP for clients and displays at IDC, says that Microsoft can basically "start printing money" when it releases Office apps for Android and Apple devices--but only if it pulls the trigger before would-be users develop a taste for alternative productivity apps that are already available for mobile operating systems.