Why iOS needs support for multiple accounts
The Mac has had support for multiple accounts for years. Kirk McElhearn argues that iOS needs that support, too.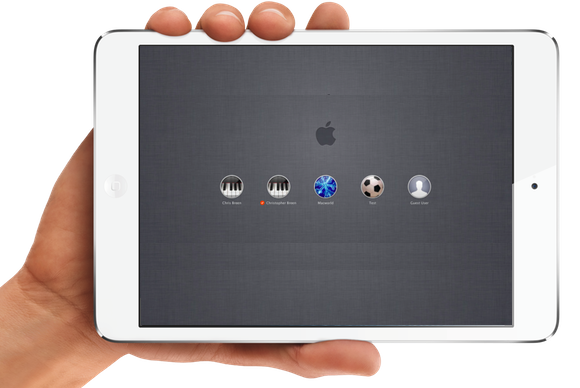 Picture this common scene: A family shares an iPad, with each person struggling to maintain control of it long enough to play their favorite game, check Facebook, send email, and surf the Web. But since an iPad can have only one account, Mom can't perform such such everyday activities as checking her personal email account (unless she uses webmail), checking Facebook (without logging out and logging in with her credentials), and saving her high scores or recording the levels she has completed in a game; in addition, her bookmarks and browsing history are visible to all other users, as are any saved auto-fill information and passwords.
Most people get around this problem by not using a shared iPad for email and other personal data--but why should they have to limit their use of the device? Apple could easily fix the situation by adding multiple user accounts to iOS.
Multiples of OS X
We've been accustomed to working with multiple user accounts since the early days of Mac OS X. Logging in and out of a shared Mac is no big deal: Lots of people do it regularly, and Fast User Switching makes it a snap. Though some couples or families share a single account on a Mac, they are missing out on a number of benefits.) On an iPad--I'll focus on the tablet here because iPhones tend to be personal than shared devices--having multiple user accounts would enable you to wake it up, see a screen with several icons, tap or swipe the one for your account, enter a passcode, and access your own setup and data.
Many couples and families share their iPads; and in my role as Macworld's iTunes Guy, I receive many email messages asking how to set up an iPad for multiple users. Some people are worried about the security of their email; others have concerns about their bookmarks and browsing history; and still others simply don't want their children to have access to all of the apps on their device (very few individual apps require passwords for user access).
How it might work
A system of multiple user accounts would resolve all of these issues. Each user would be able to set up a separate home screen, and each would have personal settings established, just as happens with multiple OS X user accounts. Users would have their own email accounts, bookmarks, contacts, calendars, and so on. Also, their games would be linked to their Game Center accounts, and they'd see their personal stats, their high scores, and the levels of Angry Birds they've completed. They could all play Letterpress if they wanted to, and perhaps they'd have their own selection of apps--if the feature allowed such choices. Finally, each user could hide any of the apps installed on the device.