Why Amazon's Fire Phone hasn't set the smartphone market ablaze
Maybe Amazon should offer free puppies to app developers who can make Firefly and Dynamic Perspective must-haves instead of nice-to-haves.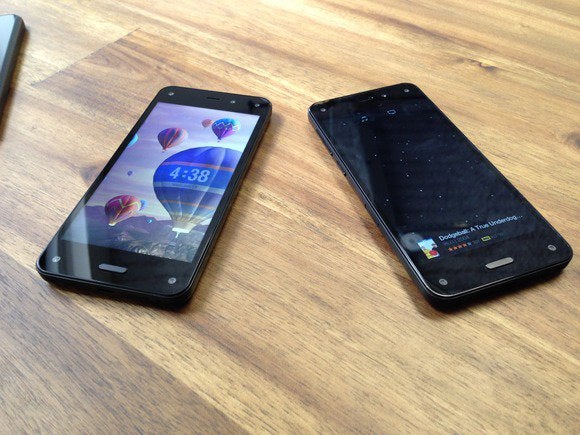 When I reviewed Amazon's new Fire Phone, I compared it to the first iPhone, and the similarities are many. It's fairly different than what's come before it. People don't really know what to do with it yet. It's got cool features that aren't being used to their fullest potential, and it will require third-party developers to really push the platform forward. Oh, and it's locked into one carrier for the time being.
Unfortunately for Amazon, it's not 2007, and Apple's playbook for revolutionizing the smartphone industry is pretty outdated. And as such, the Fire Phone is having trouble catching on. It hasn't even been out for a full month yet, but some analysis from Chitika Insights suggests that the Fire Phone is off to a slow, if steady, start compared to two other recent handsets--the LG G3, which is available on multiple carriers, and the Verizon-exclusive Motorola Droid Ultra.
Jeff Bezos has said that one of Amazon's jobs with the Fire Phone is "to be patient." While patience is a virtue, so is actively seeking to overcome what's holding you back. Here's what the Fire Phone needs to succeed.
More carriers
Yes, the iPhone was exclusive to AT&T at its launch in 2007. And a lot of people complained about that, remember? Some didn't mind being shackled to AT&T for the chance to use Apple's brand-new, all-touchscreen iPod-that-makes-calls-and-goes-online, and at least AT&T was offering unlimited data plans for it at the time.
For the Fire Phone, AT&T exclusivity is a giant bummer, full stop. Of the four major wireless carriers, it's pretty much tied with Verizon at about 34 percent market share, but that means about two-thirds of cell phone-carrying Americans don't have AT&T. Once the Fire Phone shows up on Verizon, Sprint, and/or T-Mobile, its appeal will broaden overnight.
A lower price tag
Again, the iPhone came in ridiculously expensive at first ($499 for 4GB of storage ha ha ha ha ha, no really), but Apple cut the price significantly just a few months later, and has kept pricing consistent ever since. But today, there's enough competition that price is more important, especially when you're asking your customers to be early adopters of something new.
Before the Fire Phone launched, I was hoping Amazon would shake up how people buy its phone and pay for data and voice: Maybe a la carte plans like Ting for a customizable, contract-free fit. Maybe a subsidized data plan as a reward for shopping on Amazon, or at least free streaming of Amazon's own movie, TV, and music offerings. But this was not to be. The Fire Phone is being positioned as a premium handset, and its price does not undercut other top phones like the iPhone 5s or Galaxy S5.