Why a leaked Windows 8.1 update and Microsoft's new CEO bode well for PC lovers
After taking a plunge with Windows 8's modern UI, Microsoft appears ready to let a PC be a PC and a tablet be a tablet.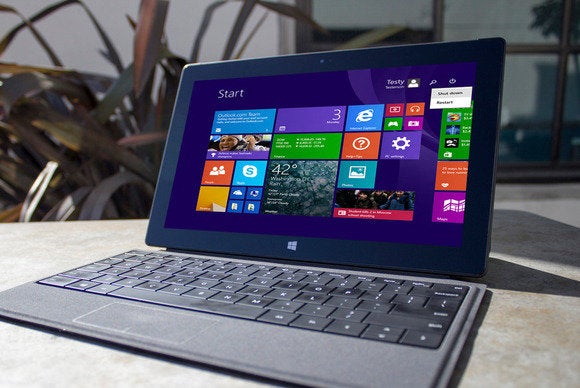 As a diehard PC geek and, by extension, a longtime Windows enthusiast, I'm feeling very optimistic for the future of the traditional Windows desktop because of two portentous events that occurred this week: The leak of an early build of the impending Windows 8.1 update 1 and Satya Nadella being appointed the CEO of Microsoft.
The two aren't related at first glance. Heck, as the former head of Microsoft's Cloud and Enterprise group, Nadella didn't even work on Windows directly. But together, they signal that Microsoft may--may--just tone down its audacious "One Windows to rule them all" scheme to embrace a more nuanced future--one that's still full of modern-style apps and user interface unification, but also a future that allows a PC to be a PC and a tablet to be a tablet.
Windows 8.1 Update 1
A build of the long-rumored spring update for Windows 8.1 leaked this past weekend, and it proved all the whispers true. The evolution of Windows appears poised to continue down the path of compromise blazed by Windows 8.1, introducing mouse-friendly elements to the Metro mix and finessing the operating system into a more cohesive whole.
Windows 8.1 update 1 introduces mouse-friendly menus at the top of modern-style apps, letting you close, Snap, or minimize the fullscreen apps with just a few clicks. That's right, I said "minimize." Update 1 breaks Windows 8's barriers down and shows modern-style apps on the desktop taskbar, complete with jump lists and "peek" capabilities. (Hallelujah!)
They're modest improvements, sure--but other tweaks hint at a more device-dynamic future for Windows.
For example, the update adds pop-up right-click context menus to modern apps and the Start screen. It's a mouse-friendly move that prevents traditional PC users from having to move their cursor to the Metro options bar that appears of the screen when you right-click in Windows 8 and 8.1. But those options only appear when you're using a mouse. Touchscreen users still get the same old Metro options bar.
Big whoop, right? The dynamic tweaks don't stop there, though. Brave souls who have tested the leaked build have found that if you perform a clean install on a device without a touchscreen, Windows 8.1 update 1 boots straight to the desktop by default, rather than the modern Start screen.
Let that sink in for a second. Mull it over with the other changes.
Dynamically determining which interface to boot into based on the default input method was one of the improvements we wanted to see in Windows 8.1, and the update's tweaks hint at, well, a more Apple-esque future for Windows--in a good way.