What's behind Microsoft's not-so-crazy startup spending spree
CEO Nadella's influence, platform-agnostic approach cited.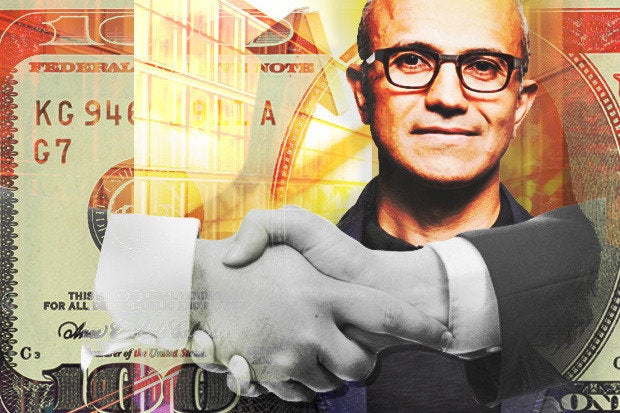 Microsoft so far this year has been the most acquisitive company in enterprise IT, snapping up at least four firms on top of four others that it bought in the last two months of 2014. And while the buyouts might at first glance appear scattershot we're talking text analysis, calendaring and digital pen startups among others -- there does seem to be a grand plan here.
Our regularly updated Enterprise Networking & IT Acquisition Tracker shows through the first calendar quarter that Microsoft has announced more than twice as many buyouts as any other company (not that all acquisitions are immediately made public and taking into account that our tracker is focused on enterprise-related acquisitions -- Google has bought at least four consumer-oriented companies).
Microsoft is starting its 40th year on a real buyout tear, fleshing out its mobile, cloud and big data/analytics offerings through acquisitions as it moves forward on big initiatives such as Windows 10 and its new Spartan browser. According to the company's own Acquisition History chart -- see a condensed and sortable version at the very end of this article -- Microsoft has not gobbled up five companies in a quarter since 2008 when it bought 9 firms, not many of which most people would recall. Caligari or Credentica anyone?
Microsoft finished 2008 with 16 announced buyouts, the most of any year included in its Acquisition History tracker, which goes back to 1994. Wikipedia keeps a list that dates back to 1987, but few purchases were made between then and '94. Other than for its largest deals, Microsoft is cryptic about how much it pays for companies, requiring those interested to ferret through its SEC filings for clues.
So, Microsoft is on a record-breaking M&A pace for calendar year 2015 -- its fiscal year starts in July and ends in June -- and all of the deals so far have possible enterprise IT implications. The rundown: LiveLoop is involved in PowerPoint collaboration; Equivio makes text analytics/e-discovery software that could bolster Office 365; and open source company Revolution Analytics promises to bring R programming to more IT shops. It has also been widely reported that Microsoft is buying Israel's N-trig, which sells digital pens for devices like the Surface Pro 3 tablet (If the N-trig deal is in fact true, three of Microsoft's last nine deals would have involved Israeli firms). One other deal, Microsoft's acquisition of iOS/Android calendaring app maker Sunrise, is a consumer-focused pact on the surface but an investor says Sunrise had business use cases in mind.
Microsoft is also rumored to be a front-runner to buy social news reader Prismatic, which would not appear to be an enterprise-related buy.