What Microsoft's new product groups mean for Windows, Office, and more
Microsoft realigns groups by function rather than platform or product, aiming for a smoother development cycle internally, and a smoother user experience externally.
Microsoft's restructuring places a new emphasis not on products, but on technologies that will be shared across the company, to tie together and improve the company's overall business as a whole.
What does this mean for consumers? For us, it most likely means a sense of coherence: Not only will Windows Phone and Windows 8 look like one another, but it could mean more shared code and services, for example.
Microsoft goes holistic
So how will it work? Microsoft CEO Steve Ballmer published both a lengthy memo as well as a strategy document unveiling the changes that the company outlined Thursday. Simply put, all parts of the company will share and contribute to the success of Microsoft's core offerings: Windows, Windows Phone, Xbox, Surface, Office 365, Bing, Skype, Dynamics, Azure and Microsoft's server products, Ballmer wrote. "We will see our product line holistically, not as a set of islands."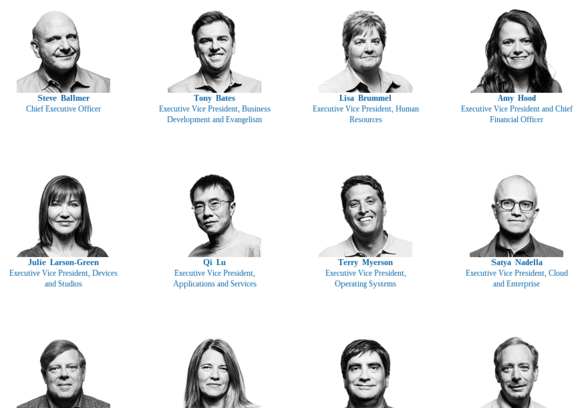 MICROSOFT. A few of the faces that will be overseeing Microsoft's new business units.
Business strategists will undoubtedly spend days parsing Microsoft's business strategy, but on the surface, there are a couple of key changes. First, Microsoft's priority is engineering technologies, not products, and its core leadership all share "engineering" titles. Second, the devices that you buy, such as tablets and phones, will simply serve as gateways to the Microsoft software and services that you already know and use. The difference here, however, is that the ecosystem will be more tightly interlaced, as evidenced by products like the Xbox One, which will include Skype and Internet Explorer.
"We will consolidate our technologies coherently into these groups pulling together some things that have been spread out in our current BG structure like cloud infrastructure, operating systems, mail, and identity, to name a few," Ballmer wrote. "Some of these changes will involve putting things together and others will involve repartitioning the work, but in all instances we will be more coherent for our users and developers."
Making better sense of a mass of products
Ballmer used terms like "nimble," "collaborative," and "decisive" to describe Microsoft's new business, underlining its commitment to updating its software more frequently.
Patrick Moorhead, principal at Moor Insights, says consumers should expect Microsoft to push synergies. "Holistic 'solutions' like the interaction between phone, tablet, PC and Xbox will trump individual products in the future with Microsoft," he said.
"I believe that within engineering/product groups, the reorg has the possibility to speed up execution and decision making," Moorhead added. "To accomplish this, Microsoft decided to pull everything together, particularly across products."