What lies beneath: What you need to know about content blockers in iOS 9 Safari
Call them content filters or ad blockers, iOS 9's ability to plug apps into Safari that handle how items are retrieved on web pages will change the way we mobile surf.
Apple let loose a bombshell at WWDC in June for websites that feature advertising: Safari in iOS 9 would support Content Blocking Safari Extensions; so, too, will El Capitan, although OS X's Safari already allows extensions of all sorts. Apple didn't put too fine a point on it. These extensions... well, they block content. (They don't apply to Apple's iOS 9 News app's ads nor its iAds in any app.)
Many oceans of virtual ink have been spilled over what it will mean. To sum up, sites that rely on mobile visitors who use iOS to generate advertising views and click-throughs as part of how they fund themselves may be out of luck.
To try it first hand, I tested three beta content blockers against the latest public iOS 9 build: Adamant, Blockr, and Crystal. (That they go A, B, and C is absolutely coincidental!) These extensions are from developers who plan to release versions when iOS 9 ships.
What I found on newer iOS devices is that the time to load isn't affected as much as what's being loaded that you don't see, which continues to be downloaded long after you're interacting with a page.
I tested several popular news and Mac-related sites using the fourth-generation iPad (late 2012 model). I first used Safari's settings to clear any cached data (Settings > Safari > Clear History and Website Data), to make sure already loaded JavaScript, media, and CSS didn't distort load time. I then ran a stopwatch against each page load from the moment I tapped the link to the moment the page was usable.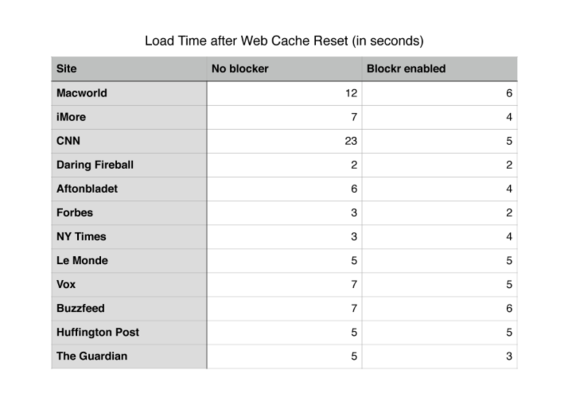 You'll see many comparisons that tracked from entering a URL to when the final referenced item was loaded; I didn't employ that, because I was looking at how long it takes for a page to be usable. The difference is minimal to substantial depending on the site.
Another interesting tidbit: Many iPad or mobile-optimized sites aren't substantially different with content blockers installed or not. Even sites that take an egregiously long amount of time to load on the desktop and are festooned with stuff other than content have clearly migrated rapidly towards more stripped-down mobile presentation.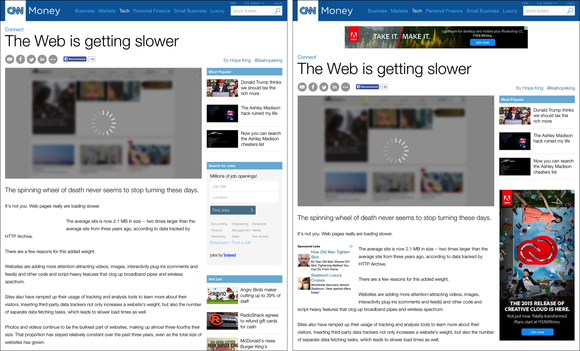 Here's CNN, filtered (left) and unfiltered (right).
It's interesting to look at Buzzfeed, a pioneer of native advertising, in which editorial content is developed for advertisers and presented as sponsored stories or other items. The homepage for Buzzfeed with and without Blockr enabled to block ad networks and privacy-dubious scripts differed only in about a second of load time, and only one advertising element disappeared.