What carmakers will reveal at CES
Over-the-air-software updates for cars will be a US$45 billion business by 2022.
Interior cameras and sensors will increasingly enable gesture recognition, where a driver can control infotainment functions, such as system volume or contact list scrolling, with a swipe of a hand through the air.
For example, the BMW 7 series luxury sedan already lets a driver control the infotainment system with three-dimensional hand gestures.
One development the analysts said they're "crossing their fingers" to see at the show is Modular Infotainment Platforms (MIB), which would allow carmakers to upgrade vehicle electronics even while vehicles are in development -- something not traditionally possible.

More automakers are expected to offer modular electronics that will allow the latest processors and touch screen displays to be rolled out with new cars and trucks. Credit: Audi
For example, an infotainment system's processor could be replaced even while a vehicle is undergoing a multiyear development cycle. Traditionally, vehicle electronics are years behind the consumer device industry, even for first-year models.
The majority of the automobile manufacturing market is now focused on modular infotainment displays, controllers, telematics, electronic control units and optics, Boyadjis said.
For example, Audi showcased its MIB-2 technology and virtual cockpit at the Connected Car Expo in Los Angeles last year.
Egil Juliussen, research director at IHS, said CES has become the premier show for the automotive suppliers over the last five years, as automotive shows don't offer enough of a venue for them.
As cars have increasingly become defined by their electronics and software, attention has shifted to ways to upgrade those systems as you would a desktop or laptop. Increasingly, carmakers are including Wi-Fi units and greater broadband capabilities for Over-the-air (OTA) software updates.
The OTA market is expected to reach $45 billion by 2022, Juliussen said. The vast majority of it will be related to the money-saving capabilities of OTA, where vehicles won't need to be taken to dealerships for upgrades or software recalls, he said.
"[Carmakers] really cannot build OTA platforms fast enough," Juliussen said.
The OTA market is also spurring a flurry of acquisitions. For example, leading IVI system maker Harmon this year acquired OTA software supplier Redbend.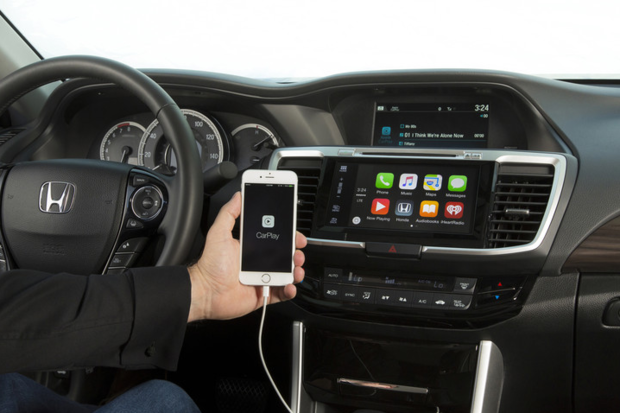 Apple CarPlay and Android Auto are competing -- and winning -- against traditional in-vehicle infotainment system makers. Expect to see more carmakers announce both the smartphone mirroring applications to be native to their vehicles. Credit: Honda
But as Internet connectivity increases in vehicles, so, too, do security risks, and OTA updates will only add another avenue for potential cyberattacks. This year's CES should begin to showcase cybersecurity as a core element of connected vehicles going forward.