What Apple does best: reinventing, not inventing
Apple does invent things, but John Moltz argues that what the company really should be known for is reinventing existing product ideas.
I actually have a t-shirt that drives home this message: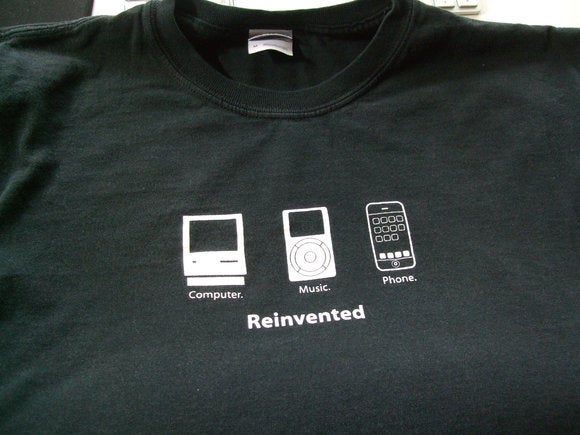 See? Reinvented.
Apple's magic is in the way it evaluates a product in order to answer the question "How would average humans like to use this?"--without actually asking average humans. This is because when you rely on focus groups and checklists of features, you end up with a projector phone. Or, like HP, you end up with computers that look exactly like Apple's but lack the ease of use and thoughtful design.
I'm not saying that every one of Apple's competitors is hapless. HTC certainly has a nice design ethos, and both Google's and Samsung's designs are getting better. Google, for its part, has set out to actually invent its own categories with Google Glass and self-driving cars, but whether those will gain wide adoption remains to be seen.
No one outside Apple really knows what the company's next reinvention might be. Much like tablets, smartwatches are a fledgling category whose use has not yet been fully explored; on the other end of the scale, televisions are a more mature and competitive market, filled to the brim with poorly developed software and ecosystems--not unlike the smartphones of yesteryear.
The best way to evaluate whether Apple could enter a market is to ask whether people are satisfied with the current user experience. Apple's a little like Tom Joad in that book you were supposed to read in high school (but you watched the movie instead): Wherever there's dissatisfaction with technology, they might be there.
And, really, is there anything people are more dissatisfied with than the sorry state of orbital death laser technology?
Oops, I did it again.