We've officially reached peak smartphone, but real innovation is still within reach
As the pace of hardware innovation slows to a crawl, manufacturers must turn to real-world problem-solving to get consumers excited again.
So, if Samsung is looking for high profit margins to help its financial picture, it's not going to find them in the current environment—at least not this year. A company like Apple can shift its focus to other parts of its device business because it doesn't have as much competition to worry about—in terms of marketshare, iOS is in a category of its own. But Samsung is going up against other major Android players, like Motorola (with Lenovo behind it) and Huawei, which is finally gaining mindshare in the U.S.
Samsung can't risk its spot as Top Dog with an underwhelming product launch this spring, so it has to innovate.
But what does innovation look like?
The Nextbit Robin isn't out yet, but it's already got a leg up over what the big guys have in store just by virtue of being very, very different.
There's a very good chance you've already got great hardware in your pocket. So what can a manufacturer do to convince you to part with your hard-earned money for yet another phone upgrade? The NextBit Robin is a great example of how a company can differentiate itself by offering clever (if simple) solutions to common problems.
The Robin's version of Android will back up applications and other types files you don't often use into the cloud, and store them until you're ready to access them again. This will help ensure that the necessarily limited amount of hard storage you have available isn't overloaded with files and folders you don't always need. Beyond that, the Robin's narrow, angular design is a nice alternative to all the curvy metal bodies currently en vogue. It's nice to see something completely different, and the Robin offers a surprising design.
The Robin tells us that to make consumers pay attention again, you have to offer something fresh and meaningful, something that will make a real impact on their mobile lives. The Robin approach taps into the cloud in a new, novel way, but other manufacturers might do well to turn to software to find freshness.
Software: It's the new hardware
The rumor mill says LG is readying dual displays for its next flagship phone. Samsung, meanwhile, is expected to include a pressure-sensitive display for the Galaxy S7. Both displays might sound innovative during a press conference, but they're unlikely to move anyone's emotions, let alone spike a wave of upgrades.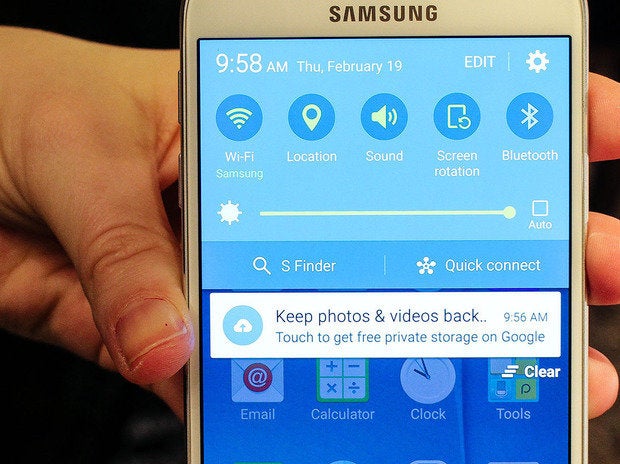 Samsung's TouchWiz may have improved exponentially in functionality, but it's still way too familiar and dated-looking.
So what do you do when you've run out of hardware tricks? You double-down on software, and focus on reducing all the friction and pain points of simply owning a phone.