Wellograph puts a luxury twist on activity-tracking wristbands (or is it a smartwatch?)
It's got a scratch-resistant sapphire crystal and a posh-looking aluminum body that's nicely machined with subtle, curvy, elegant lines.
Most wrist-worn activity trackers err toward sporty styling at best and gauche aesthetics at worst. This leaves a wide-open hole in the market for a wellness tracker-cum-smartwatch like the Wellograph. It's available for pre-order Thursday at the dear, dear price of $350, and attempts to bring a bit of civilized grace to wearable-tech fashion.
Does it succeed? I'm not Joan Rivers, so check out the images here and judge for yourself. Personally, I think the Wellograph does look like an expensive chunk of industrial design. It's got a scratch-resistant sapphire crystal and a posh-looking aluminum body that's nicely machined with subtle, curvy, elegant lines.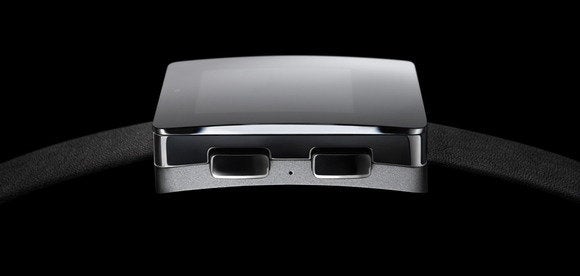 IMAGE: WELLOGRAPH. Notice the precision-fit buttons.
Also notice the two machined side buttons. They appear to fit inside the body with zero-tolerance precision. It's a slick look.
There are only 10,000 Wellographs available for an "exclusive" first-round pre-order. If you're game to throw down, you can choose between a Silver Satin design, or a limited-edition Black Chrome look. If you choose the former, you get a brown leather strap. If you choose the latter, your strap comes in black. Sophisticated? Sure. This is not a disposable trinket.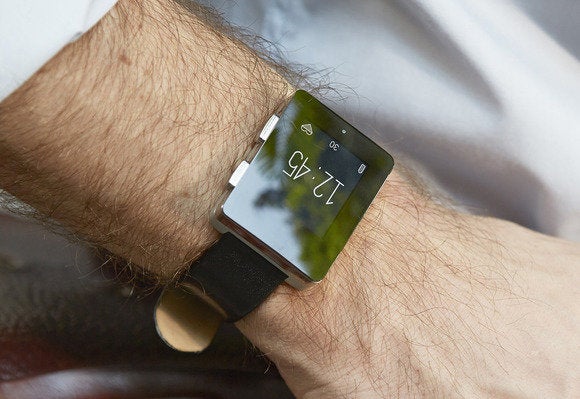 IMAGE: WELLOGRAPH. Sure, you can wear this to the tennis club, and not get branded a nerd.
But the screen bezel is quite wide. And while the 168x144 e-paper display uses the same core tech as the well-received Pebble smartwatch, it's still, well... a digital display on a very rectangular watch. No one will ever mistake the Wellograph for a traditional luxury timepiece—because those are usually round and have moving hands.
What I find truly interesting is that the Wellograph is by all measures an activity tracker that's designed to look like a smartwatch. But it doesn't have a camera, it doesn't provide smartphone notifications, and it doesn't run apps. It does, however, come with a 9-axis motion sensor and an LED-based heart-rate sensor to feed data to a bunch of health-tracking functions.


Data, and plenty of it. But we'd still like to know more about the science behind Wellograph's wellness platform.
Via retro-cool infographics exposed directly on the watchface—they're sort of Mad Men in their stark, mainframe-era minimalism—you can check out a variety of health reports. You get the day's total activity time; a plethora of calorie-burn metrics; various real-time and historical heart rate stats; and murkier, less transparent data points like your "exercise score" and "fitness age." All these numbers (and more) can also be viewed via Bluetooth-paired iOS and Android apps. But while the Wellograph also reports basic step numbers and includes a stopwatch, it won't reveal sleep data.