Weekend Project! Install the Windows 8.1 preview
If the Fourth of July's heat is too much, why not sit inside and install Windows 8.1 while you kick back with a refreshing beverage?
The other thing to know is that if you download and install the Windows 8.1 preview, you may have to reinstall its apps when the final Windows 8.1 version is released. That said, if you choose to sit back, wait, and only upgrade when the final version is released, don't worry-you shouldn't have to touch a thing.
The operating system you're upgrading from also determines the amount of data you'll need to worry about. Basically, if you're upgrading from Windows 8 to the Windows 8.1 preview, Microsoft anticipates that all of your data, with the exception of some apps, will be preserved. (Microsoft's not saying which apps may need to be reinstalled, however.) Microsoft sums it up in the table below, compliments of its FAQ. Again, nothing should change when you install the preview, only when the preview expires.
Once again: We recommend that you first back up your PC before you start. There have already been documented cases of Windows 8.1 installations going wrong, and the last thing you'll want to happen is to lose everything. (The link just above also shows you how to safely perform such a backup operation.)
One final note before we get started with installation specifics: Some corproations don't let you log in with your Microsoft account, and restrict you to a "local" installation. In these cases, you won't have the full ability to sync your settings across multiple PCs. Local installations won't work with the Windows 8.1 preview, so be sure you have signed up for a Microsoft ID, and then log in with that ID when the installation completes. (A Microsoft ID is generally your Hotmail or Outlook.com account and password.)
Download and installation
The installation process itself is rather simple. Visit preview.windows.com and follow the instructions. We've walked through an early version of the download process here. Tony Leung, one of our testing analysts who downloaded and installed the preview, reported that the total time needed to download and install Windows 8.1 was about two hours on a fast sysem with a solid-state disk. (Do note, however, this was during the earliest few hours of 8.1's life, when Microsoft's servers were slammed.)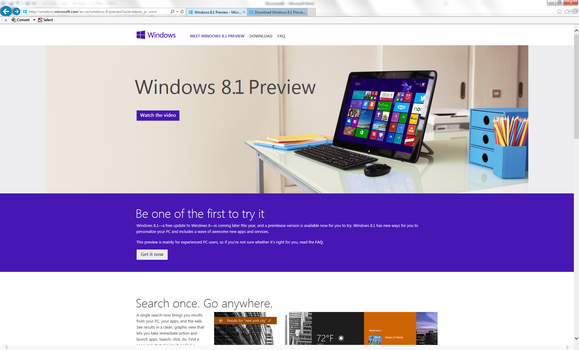 This page has links both to the direct download of the Windows 8.1 preview as well as the ISO.
Again, you'll need to decide whether you want to run an in-place installation or within a virtual machine-the latter isolates Windows 8.1 from the rest of your system, but sometimes incurs a performance hit. If you decide to take the virtual machine route,download the .ISO file (3.2GB for a 64-bit version, or 2.8GB for the 32-bit version).
Previous Page 1 2 3 4 Next Page