Web design review roundup: Our favorite Mac apps for building a website
If you want to build a website but you're adverse to writing code, there are several web design apps to choose from.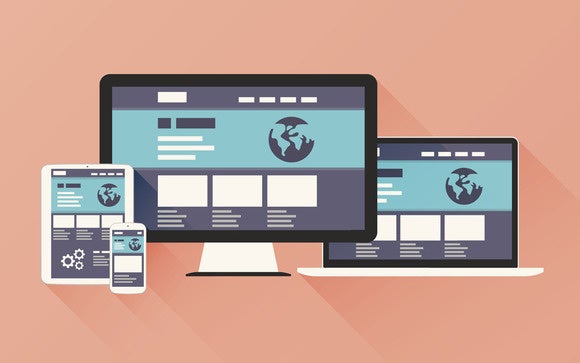 A crowded slate of Mac apps aim to make building a full-featured, modern website drag-and-drop simple. Many even support one of the most crucial new web trends: responsive design, which can automatically switch up your layout to look good on a widescreen monitor, a tiny smartphone, or anything in between.
While no single program currently offers all the power, flexibility, and simplicity I'd hoped for, I did find two particularly strong contenders that at least came within shouting distance of that ideal.
Top choice for complete beginners: Blocs
If you have no idea how to start building a site, start with Blocs (

). At $70, it's $10 cheaper than most of the other programs in this roundup. And thanks to its extensive library of well-crafted chunks of code, it makes assembling an impressively slick site almost as simple as snapping together a pile of Lego blocks.
Even before you begin, Blocs has done the hard work for you, building snippets of sample code that you can mix, match, customize, and stack. Just pick a clearly color-coded section of your design—header, body, or footer—and choose a chunk of layout to add, whether it's a fancy screen-filling photo, a few columns of text, or a swath of smaller icons or images. Once it's in place, you can tweak the template to suit your needs. At every turn, Blocs tries to sweat the small stuff so you don't have to, including a navigation menu that'll automatically update as you add new pages to your site.
Spartan but clear thumbnails help you choose which chunk to add next, and accurately represent what you're getting. While you're limited largely to that ready-made collection, Blocs offers a wide enough selection of appealing elements to build an appealing site. And since all the code's prebuilt, every site you make in Blocs has responsive design support baked in, without any extra effort on your part. The sample site I built looked great on big and small computer screens, good on my iPad, and decent enough on my iPhone 5S.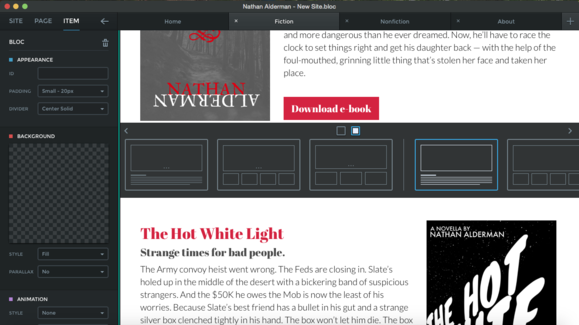 Blocs: A few quick clicks let you drop in predesigned, customizable chunks of your new webpage.
Blocs' balance between a sparse selection and effective results also applies to its feature set, including a limited but appealing roster of fonts, and its extremely basic control over text styling and padding. That deliberate simplicity helps keep new users from getting overwhelmed, and further flattens out the already gentle learning curve.