Wearable snake oil: The search for automatic calorie-intake tracking in fit-tech wristbands
It's the 'holy grail' of activity-tracking wristbands, but critics say no defensible technology allows activity-tracking wristbands to automatically tell us how many calories are in the food we eat.
In summation, Robinson says, GoBe is "completely fictitious based on both medical principles as well as the physics of measuring glucose."
Robinson isn't the only one myth-busting Healbe's claims. I spoke with Casper de Clerq, a partner with Norwest Venture Partners, a venture capital firm that looks for investment opportunity in the healthcare and wearables spaces. (It currently has a stake in Basis and Misfit.) He has years of experience studying what's feasible and infeasible in the consumer fit-tech space, and he says he doesn't believe either GoBe or AIRO are accurate enough to be useful.
"Even if blood glucose sensing was somewhat accurate by the method [Healbe] describes, this doesn't correlate at all with food intake," de Clerq says. "With any meal, the pancreas produces insulin, which in turn signals cells to rapidly absorb blood glucose. If indeed you are diabetic and unable to produce insulin, you will see a spike in blood glucose. However, for a healthy individual, measuring blood glucose wouldn't reflect the amount of calories consumed because most of the glucose gets stored as fat."
Between the damaging comments of Robinson, de Clerq, and Michelle McDonald, a clinical dietician interviewed for a Pando Daily article on GoBe, Healbe's claims appear to be the modern fit-tech version of snake oil. Yet Shipitsin stood by his science when I raised red flags.
For example: I asked him how GoBe accounts for the fact that so many calories we consume are locked up in fats and proteins. "Protein is more like 'construction material' for cells," Shipitsin replied in an email, "and without diets, contribution of protein depend on climate zone and average for U.S. is near 15 to 20 percent... If user using special nutrition like 'low-carb' diets, he or she must set up accordingly flags in app, GoBe change the algorithm accordingly."
Wait, what? What's all this talk about construction materials and climate zones? Let's concede there may be a language barrier problem in Shipitsin's email, and continue on.
I also challenged Shipitsin to respond to Robinson's observation that the relationship between glucose intake and cellular glucose isn't proportional. To this Shipitsin replied, "Yes, of course, your doctor's absolutely right. You see the main idea--we have exactly 'physiological technology.' GoBe is following the process inside the body and we absolutely aligned with doctors knowledge. We preparing content to Indiegogo's page with description of technology and internal tests of accuracy. I guess you understand, not only consumers asking us about technology."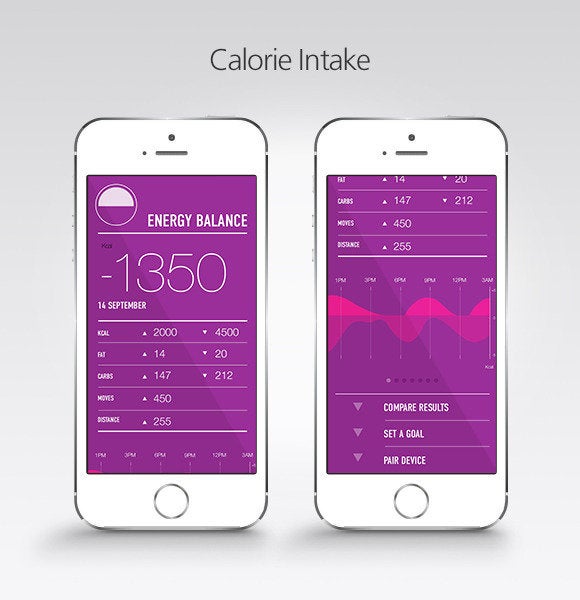 IMAGE: HEALBE. It says it right on the picture: Calorie intake is a GoBe feature.
It would be overkill to litigate GoBe's veracity any further here--because, after all, "internal tests of accuracy" are imminent, and it appears Healbe understands the public's desire for serious scientific validation. (Consumers are already demanding answers on Healbe's Facebook page and a Reddit thread.) Only time will tell if Shipitsin and his team can pull off a medical miracle (some would call it the cold fusion of wearable tech), or if Healbe will have to go the Airo Health route, and return to the drawing board.
Previous Page 1 2 3 4 5 6 7 Next Page