Wearable snake oil: The search for automatic calorie-intake tracking in fit-tech wristbands
It's the 'holy grail' of activity-tracking wristbands, but critics say no defensible technology allows activity-tracking wristbands to automatically tell us how many calories are in the food we eat.
It's an incredible claim. And experts tell me it's all hokum.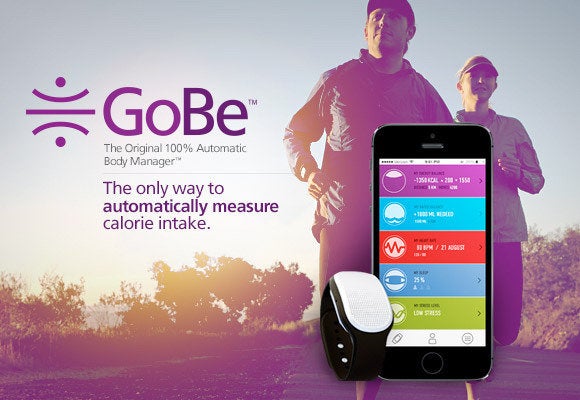 IMAGE: HEALBE. The Healbe team doesn't mince words: Automatic calorie intake measurement is reality.
"The physical reality is, this is just ridiculous," says Ries Robinson, who has a medical degree from the University of New Mexico, a Masters in mechanical engineering from Stanford, and more than 20 years experience in developing systems for the optical measurement of body tissue. "It doesn't work at a medical level. It doesn't work at a practical level," Robinson says of GoBe's claims.
Welcome to the wearables gold rush. Time, brain power and investment capital is pouring into product development of activity-tracking wristbands, smartglasses, and even smart jewelry. Intel is rumored to be acquiring Basis, one of the biggest names in fitness bands, and Apple iWatch rumors never seem to end. But there's also an unseemly underbelly in the wearables space: Start-ups with dubious if not outrageous product claims are avoiding traditional venture-capital sources--which probably wouldn't give them the time of day--and are heading straight to crowd-funding to jumpstart development.
Healbe, for one, has already raised more than $766,000, far surpassing its original $100,000 Indiegogo goal. Its GoBe wristband looks like a complete, finished product--glossy and polished, with a cleverly designed companion app. The entire package appears right at home next to the Jawbone UPs and Nike Fuel Bands of the world. But does it even deserve to be considered a viable (let alone competitive) product?
Meet GoBe, the fit-tech miracle worker
The world knows very little about Healbe, the Russia-based company that makes the GoBe wristband. Its team is led by Artem Shipitsin, "a major developer of market solutions and new products for global brands," according to the Gobe Indiegogo campaign page. There are apparently no medical doctors or sensor experts on the Healbe team; the closest may be Eugene Sokolov, the company's chief scientist who "applies his background as a rocket scientist to global innovation."
But the Healbe bona fides are actually immaterial, as the company makes bold product claims that can be reviewed on face value. According to Healbe's Indiegogo literature, the GoBe wristband uses patented "FLOW Technology" to automatically track calorie intake. To quote the Indiegogo page: "Know exactly how many calories you're consuming by using GoBe to read the glucose in your cells--through your skin, with no manual logging, no estimates, and no error-prone guesswork."
The GoBe band apparently uses three sensors to feed data to the FLOW Technology algorithm. First, an accelerometer measures body movement. This is a tenable, unremarkable claim. Second, a "pressure sensor" reportedly "measures blood flow and heart rate." There's no scientific data that says a simple pressure sensor applied to the underside of your wrist can generate accurate heart rate data--especially in a $299 wrist-worn wearable. But let's allow this claim to slide, as Shipitsin confirmed to me that the GoBe's third sensor, an impedance sensor, is what generates the calorie intake data, and this is what concerns us today.
Previous Page 1 2 3 4 5 6 7 Next Page