WD ships world's first 10TB helium-filled hard drive
The HDD uses 56 percent fewer watts than WD's previous drive.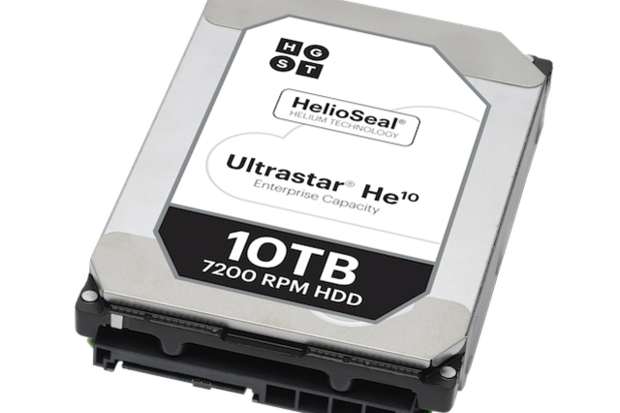 Credit: WD
Western Digital yesterday announced the first 10TB hard disk drive (HDD) based on its HelioSeal Platform, which hermetically seals helium gas in the drive to decrease friction.
The new 3.5-in. Ultrastar He10 HDD is based on WD's third-generation HelioSeal Platform, which also consumes less power per terabyte of capacity than any previous drive the company has shipped.
Besides being filled with helium, the new HDD uses typical perpendicular magnetic recording (PMR) to fit 10TB of capacity on seven platters with an areal density of 816Gbits per square inch.

An internal look at WD's new Ultrastar He10 helium-filled hard disk drive. Credit: WD
The new HDD represents a 25% increase in capacity over the previous generation 8TB Ultrastar He8 HDD and uses 56% less watts/TB than traditional air-filled HDDs. The drive uses as little as 0.5 watts per terabyte while idle; the SATA model uses 6.8 watts while operating and the SAS model uses 9.5 watts while spinning, which is still 56% less power than the previous generation, WD said.
The Ultrastar He10 also boasts a 2.5 million mean-time-between-failures (MBTF) rating as well as a five-year warranty.
The 7200rpm Ultrastar He10 HDD (see specification sheet) comes with either a 6Gbps SATA or 12Gbps SAS interface and has maximum sustained read/write data transfer rates of 249MB/s and 225MB/s, respectively.
WD is pitching the new HDD as "drop-in" ready, meaning there's no additional software required for the drives to function in a server or array. That's not the case with high-capacity drives that use shingled magnetic recording (SMR) versus PMR technology.
Both WD and Seagate have continued to boost the capacity of drives for archived data using SMR. Seagate, for example, believes SMR holds the promise of creating 20TB drives by 2020.
Unlike standard PMR, where data tracks rest side by side, SMR overlaps the tracks on a platter like shingles on a roof, thereby allowing more tracks to be squeezed together on a platter.


A diagram showing the overlapping tracks of singled magnetic recording technology. Not the read head is half the size of the write head. Credit: Seagate
Because the tracks are overlapped, the read head on a hard drive using SMR can be half the size of a typical one. While SMR increases density, it also creates the need for additional data management, which slows the read/write rates. That's because when applications attempt to overwrite data or write random data, tracks with existing data are already overlaid with other tracks. That means a host application's data needs to be sequentialized to accommodate a write sequential transfer.