Wanted: A world where virtual assistants help (without being asked)
Only two virtual assistants – those from Google and Facebook – can eavesdrop on your conversations and chime in with helpful suggestions. We need a lot more of that, even in the office.

Credit: Thinkstock
Instead of fearing that artificial intelligence (A.I.) will replace us, we should be excited about how A.I. will help us.
In a perfect future, our A.I. virtual assistant will know what we're doing, where we're going and — most importantly — what we're saying. They'll know lots of other things, too. And when they sense we need help, they'll whisper suggestions, ideas or facts into our ears, essentially giving us real-time knowledge as we go about our day.
As you're walking from a parking garage to your meeting, your virtual assistant should give you turn-by-turn walking directions without you having to ask. As you shake hands before the meeting, your virtual assistant should remind you (without anyone else hearing), that you met the person four years ago at a conference. During the meeting, it should listen for potential questions and supply the answer.
When it hears, "Let's meet up on this in October," it should remind you that you'll be away on business in October -- so you can suggest November.
This future is delayed by two facts. The first is that virtual assistants and A.I. aren't that good yet. And the second is that the public isn't ready to be "spied on" all day by the companies that make virtual assistants.
The good news is that progress is being made on both fronts by Google and Facebook.
Google's suggestion A.I.
Google this week rolled out a Chrome web browser version of its Allo messaging app.
Each Allo account is tied to a specific phone number, and the smartphone using that number must validate the browser version with an on-screen QR code to enable its use. At the moment, only Android phones can validate, with Google promising an iPhone version shortly. (Go here to enable the web version.)
The browser version simply provides an interface for Allo on the phone. If your phone dies, goes offline or if you uninstall the mobile app, the browser version becomes unavailable. You can be logged into just one browser session at a time.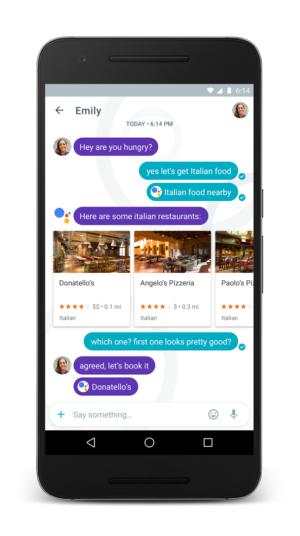 Google. Allo on smartphones, and now on the web, lets Google Assistant listen to your conversations and make suggestions.
In some respects, Allo is an ordinary modern chat app. It offers "stickers," for example. But Allo also uses two forms of "suggestion" A.I.
Google's "Smart Reply," which uses neural nets to guess at the reply you might choose, works in both Allo and Google Inbox. Smart Reply pays attention to what's being said, and offers relevant suggestions - in this case, of course, suggestions about how to reply.