Virtual reality needs U.S. gov't backing
Schools and workplaces stand to benefit from emerging technology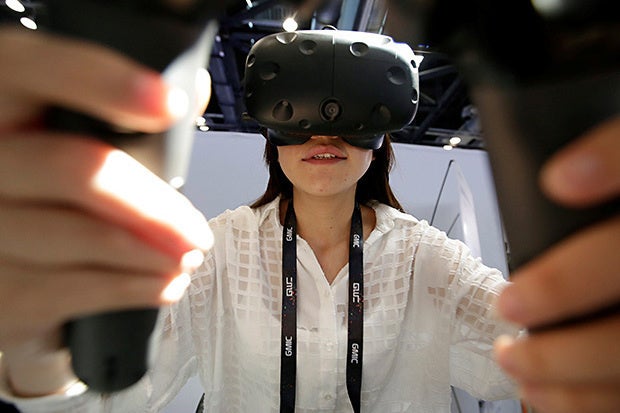 As virtual reality and augmented reality gain popularity with consumers, attention is turning to ways these immersive technologies can be used in U.S. schools and in the work force.
Panelists at an event on Tuesday called Virtual Reality Meets Capitol Hill discussed the emerging role that federal, state and local governments will face to keep the U.S. competitive with China and other countries in fostering VR growth. The event was held at the U.S. Capitol Visitor Center.
Speakers called for greater investments by the federal government in wired broadband, but they also backed attempts by private wireless carriers to expand 5G wireless networks. Both network improvements will be needed to reduce latency between role players inside VR worlds, some of whom will be physically thousands of miles apart.
"We have to build a bridge between [VR and AR] technology and the government world," said Chelsea Collier, founder of Digi.City, a group that focuses on technology innovation and public policy. "A government fix is not the answer, but we have to move in the same direction."
Panelists estimated there are already about 1,200 VR companies and more than 900 AR companies globally with a market potential of $150 billion in 2020. Meanwhile, government policies need to catch up, said moderator Adam Zuckerman, director of innovation at Discovery Communications.
One suggestion was to urge Congress to update the 1934 Telecommunications Act to embrace the potential for VR in job settings and schools.
"VR has the potential for revolutionizing education and learning and to really get down to the issue of the inequalities in high quality learning for way too many people in our country," said panelist Johan Uvin, assistant secretary for career, technical and adult education at the U.S. Department of Education.
"Think of the young person in Appalachia, with no access to an employer to help get ahead in a career," Uvin said. "There are good early examples of work-based VR. VR and emerging technologies could be the solution."
Monifa Vaughn-Cooke, director of the VR Lab at the University of Maryland, College Park, said VR offers the potential for training workers to handle emergencies in critical jobs, such as running a control room for a nuclear reactor facility.
With nuclear power production, the federal government has a role in providing consistent training procedures for jobs across the different federal agencies that oversee nuclear plants, Vaughn-Cooke said.
Doug Brake, telecommunications policy analyst at the Information Technology and Innovation Foundation, said that VR and AR will "push the boundaries of what's possible with broadband today." Noting that there is "already a real constraint for VR" with latency, he said federal policies are needed to "push investments in broadband to allow VR to grow."