Virgin Atlantic embraces wearable tech, but for posh passengers only
Concierge staff will start checking in first-class flyers with Google Glass and Sony Smartwatch 2. The rest of you are on stand-by.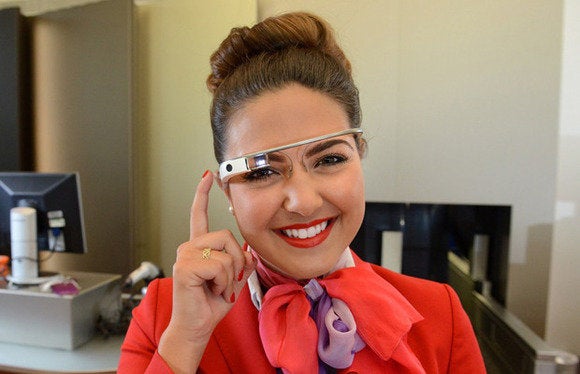 Ah, the finer things in life. Bentley motor cars. Vintage dry sherry. Grey Poupon. You deserve to be pampered, even amid the indignity of air travel. And so we have a new customer service innovation from Virgin Atlantic: During a six-week pilot program, concierge staff in the airline's exclusive Upper Class Wing will begin checking in customers with the help of Google Glass and Sony's Smartwatch 2.
Because nothing's more posh than a customer-service representative wearing brightly colored double-knit synthetics, and a curious piece of face technology.
Virgin Atlantic's program responds to a customer survey indicating "as the number of people travelling by plane has sky-rocketed in recent decades, the experience has lessened." Yes, that's correct. Stewardesses in miniskirts no longer fondle gin-tanked businessmen with hot towels.
But now with Google Glass and Sony's Smartwatch 2, an airline can still give first-class passengers a bit of extra attention. As air travelers enter Virgin Atlantic's Upper Class Wing at Heathrow, their personal information will be pushed directly to the concierge staff members' wearables, allowing the staff to greet passengers by name. According to Virgin Atlantic director of IT Dave Bulman, the program should help restore some of the "sheen" of flying, which has been buffed away over the years due to the sheer "accessibility" of air travel.
Translation: We will use rarefied technology to create more separation between our big-spending customers and the great unwashed masses packed into steerage.
Still, Virgin Atlantic's press release on its wearable program paints a pretty attractive picture of the new customer service experience: "From the minute Upper Class passengers step out of their chauffeured limousine at Heathrow's T3 and are greeted by name, Virgin Atlantic staff wearing the technology will start the check-in process. At the same time, staff will be able to update passengers on their latest flight information, weather and local events at their destination and translate any foreign language information."
Is there a foreign language translation for "glasshole"?