Valve's prototype Steam Machines dump AMD for Nvidia
Valve Software has revealed that 300 lucky beta testers will receive Steam Machines in a variety of configurations -- all based upon Nvidia graphics hardware.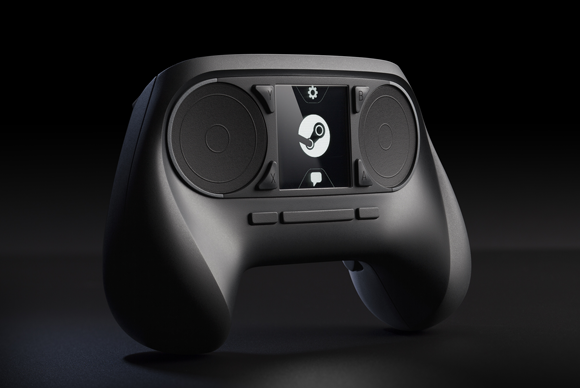 Valve Software said Friday that it will ship its prototype Steam Machines to 300 lucky beta testers, ranging from premium boxes based on Nvidia Titan cards down to low-end Intel Core i3 machines.
But in an interesting twist, all of the Steam Machines use an Intel CPU and an Nvidia-based graphics card, not AMD's CPUs and GPUs. Valve's announcement comes as Origin PC, a boutique PC maker, also said Friday that it will shift entirely to Nvidia GPUs.
Moreover, Valve said that it plans to make the Steam Machines open and user-upgradable. So if users want to upgrade their Steam Machines, they can, Valve said.
Valve's Steam Machines were tipped off more than a week ago, when Valve announced its Steam OS, the Steam Machines, and a related Steam Controller (above). Steam OS will be Linux-based, and will run an undisclosed library of games on what Valve is billing as open hardware. The company will even provide the source CAD files for its enclosure, Valve said in a blog post. However, the company said it was not yet ready to publish pictures of the proposed box.
"And to be clear, this design is not meant to serve the needs of all of the tens of millions of Steam users," the company wrote. "It may, however, be the kind of machine that a significant percentage of Steam users would actually want to purchase--those who want plenty of performance in a high-end living-room package. Many others would opt for machines that have been more carefully designed to cost less, or to be tiny, or super quiet, and there will be Steam Machines that fit those descriptions."
But Valve's beta program suddenly looks like an improved version of Google Glass, where Valve will ship hardware worth potentially hundreds of dollars to consumers to test, but without Google's requirement that they pay for the privilege.
To get in on the beta, however, consumers have to jump through a few hoops: join the Steam Universe Community Group, agree to the terms and conditions, make ten Steam friends, create a public Steam profile, and play a game using Steam's "Big Picture" mode.
Users need to accomplish all this by Oct. 25, when the beta program will be locked; however, they can also track their progress using a special "quest page" attached to their Steam profile. Upon completion of the beta "quest", Valve will award a special badge. About 260 of the 300 beta participants will be selected randomly, the rest from previous contributions to the Steam community, Valve said.
Configs
Valve has said it expects that a variety of manufacturers will make its Steam Machines. In keeping with that expectation, it seems that Valve decided to manufacture its prototypes in a wide variety of configurations:
GPU: Units will include Nvidia's Titan, GTX780, GTX760, and GTX660 cards
CPU: Some boxes will include Intel's i7-4770, i5-4570, and some i3 CPUs
RAM: 16GB DDR3-1600 system memory; 3GB GDDR5 (GPU)
Storage: 1TB Hybrid SSHD (with 8GB of cache)